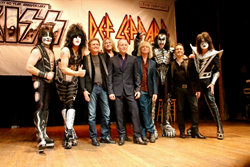 Denver, Colorado (PRWEB) March 21, 2014
It appears heavy metal, a musical genre inspired by the likes of Led Zepplin, Deep Purple, Black Sabbath and Judas Priest in the early 70's, is still a heavy duty favorite.
Take Kiss and Def Leppard for example. Both metal bands have been around for decades. Both have sold over 100 million tracks worldwide, making them both among the best selling artists of all time. And now the former rivals are teaming up for the first time for a double trouble heavy metal bill.
In fact, now riding a raucous riff of hard rock revival, the bands just released tickets to their 42-city North American tour that will "deliver good news and excitement," according to Kiss guitarist Paul Stanley.
The trek opens at the Usana Amphitheatre in Salt Lake City, Utah on June 23, 2014 and heads for Denver, Colorado; Ridgefield and Auburn, Washington; Concord, Wheatland, Irvine, Chula Vista and Inglewood, California; Phoenix, Arizona; Austin and Dallas, Texas; and Cincinnati, Ohio through mid July. The current wrap is set for the Cynthia Woods Pavilion in Spring, Texas on August 31, 2014.
"Despite being somewhat shunned by the Grammy Award judges, rockers Kiss and Def Leppard are extremely popular with fans dating back over forty years. This is a great opportunity to see two of the most successful bands in history together," said Marta Ault at online ticket marketplace BuyAnySeat.com.
"That's why we're proud to be able to offer fans the most complete and continuously refreshed selection of tickets online, with a worry-free guarantee to protect their purchase," added Ault.
"To access the full line-up of Kiss and Def Leppard tickets we have available, fans can go to BuyAnySeat.com and search for Kiss and Def Leppard – then select their tickets."
Kiss, celebrating four decades of hard rocking, released its first albums, Kiss and Hotter Than Hell, 40 years ago. The band will commemorate the date with several archival releases, including a 34-LP vinyl box set and a two-CD compilation called Kiss 40.
Formed in New York City in 1973, Kiss is known for their black and white face paint and flamboyant stage outfits. There's also their elaborate stage performances featuring fire breathing, blood spitting, smoking guitars, shooting rockets, levitating drum kits and pyrotechnics.
Counting the 1978 solo albums, Kiss has been awarded 28 gold albums to date, the most of any American rock band. Kiss has also been named in many "Top" lists, including Number 10 on VH1's 100 Greatest Artists of Hard Rock, Number Nine on MTV's Greatest Metal Bands and Number One on Hit Parader's Top 100 Live Bands. The group will be inducted into the Rock and Roll Hall of Fame April 10, 2014.
Co-headliner Def Leppard is also one of the best selling bands of all time. An English rock band formed in 1977 as part of the British Heavy Metal movement, the group's commercial success came in the 1980s and early 1990s. Their 1981 album High 'n' Dry, with its stand-out single "Bringin' On the Heartbreak" became one of the first rock videos on MTV. Their next studio album Pyromania in 1983, with "Photograph" as the lead single, turned Def Leppard into a household name.
The Brit band's fourth album Hysteria, released in 1987, topped the U.S. and UK album charts and has gone on to sell over 20 million copies worldwide. The track also produced seven singles, including the U.S. Billboard Hot 100 Number One "Love Bites". Other hits included "Pour Some Sugar on Me", "Hysteria", "Armageddon It", "Animal", "Rocket" and "Women".
Def Leppard have two albums with RIAA diamond certification, Pyromania and Hysteria. They are one of only five rock bands with two original studio albums selling over 10 million copies in the U.S. The band is ranked 31st in VH1's 100 Greatest Artists of Hard Rock and 70th on its 100 Greatest Artists of All Time list.
Kiss bassist Gene Simmons has also stated that one dollar from each ticket sold on the tour will go to the Wounded Warrior Project and other military non-profits including the USO, Hire a Hero, Project Resiliency/The Raven Drum Foundation and The Augusta Warrior Project.
To shop for Kiss and Def Leppard tickets, visit BuyAnySeat.com.
About BuyAnySeat.com: An online ticket marketplace, BuyAnySeat.com connects sports, theater and other live entertainment fans to an extensive network of ticket sellers worldwide. The site's simplified listings and navigational tools enable shoppers to easily locate, compare and purchase inexpensive, discounted or lower-priced tickets to virtually all advertised sports and entertainment events around the globe.
The ticket marketplace, which is PCI-compliant and Norton Secured, also provides customers with a complete Worry-Free Guarantee on all ticket purchases. Based in Denver, Colorado, BuyAnySeat.com is a subsidiary of Denver Media Holdings. For more information, please visit http://buyanyseat.com.