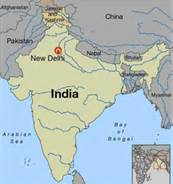 India Network's "Donate a Map Set Project" is helping thousands of rural elementary schools in India with greatest impact.
Orlando, FL (PRWEB) March 21, 2014
India Network Foundation, a non-profit organization in the United States, has been helping rural schools in India with laminated wall size color maps of the world, India, and the state for the last two decades. India Network sponsors several projects, such as visitor health insurance for Indian visitors coming over to the United States, Canada or Mexico, and provided financial contributions to Hindu Society of Central Florida to help with organizing SAT classes, among other community projects.
India Network Foundation has been helping the rural schools in India with various member driven projects for many years. The first map set distribution took place in 1994 and the second in 2004. Many rural elementary schools in India lack adequate teaching aides to help students. In addition, several national and international geopolitical changes have taken place in the last ten years, making maps distributed in the past obsolete.
The India Network Foundation project director in India has received numerous requests in the last few months to organize the map donation program. India Network invites everyone to join and make this project a great success. More details of the project can be found on the foundation web site http://www.indianetwork.org.
India Network has made a commitment to deliver these map sets to any school in India. In the past, India Network volunteers have traveled to remote villages in Andhra Pradesh, Maharastra, Gujarat, Karnataka, etc. to keep the promise to deliver the maps to schools anywhere in India. The goals and objectives for this project are a challenge to achieve, but India Network Foundation volunteers are dedicated to reach thousands of schools in rural India.
The maps are laminated, increasing their sustainability and longevity, and are approved by the Government of India. The maps are also manufactured in India and published by Government-approved publishers. The Maps will be shipped in a container with a request to send acknowledgment directly to the donor.
The donor can specify the school name and address in the order form. In the case that the donor does not have a particular school in mind, the INF will allocate to schools. Donors are encouraged to complete a separate form for each school. If donors would like INF to assign the sets to the schools, please indicate that on the donor form.
Dr. KV Rao, President, India Network Foundation said that participation in this project is made very simple. An online donation form will take few minutes to complete the donation form. Use the Secure MAP SETS ORDER FORM and send it through our secure server. India Network Foundation is expected to distribute more than 10,000 map sets under this project.
About India Network Foundation
India Network Foundation, established as a US non-profit organization, has been helping the Asian Indian community in North America with programs and grants to help educators in from India for more than two decades. India Network Foundation sponsors health insurance programs to Green Card holders, visitors, religious priests, tourists, students, temporary workers (H1 visa holders) and their families.
For more information visit http://www.indianetwork.org.
About India Network Visitors Health Insurance
India Network Services administers health insurance programs to all non-US citizens, Green card holders, transition immigrants, visiting parents, tourists, students, temporary workers and their families. The Visitor health insurance plans offer comprehensive coverage and with pre-existing conditions coverage along with fixed benefit plans.
For more information visit http://www.kvrao.org.