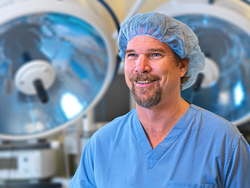 Orange, CA (PRWEB) March 20, 2014
Allied Anesthesia physicians have undertaken a clinical pathways initiative to reduce the amount of time patients spend in post-op following the six most common surgeries performed at St. Joseph Hospital in Orange.
The pain control guidelines are designed to standardize best practices, reduce costs and improve patient safety and outcomes.
Allied physicians have already developed guidelines for cataract surgeries–the highest volume surgical procedure at St. Joseph–which reduced the average time in post-op from more than 90 minutes to less than 30 minutes.
"Allied's contributions to St. Joseph's Hospital and it patients extend well beyond the scope of the typical anesthesiology practice" said Dr. Paul Yost an Allied anesthesiologist and director of cardiothoracic anesthesiology at St. Joseph's Hospital of Orange. "Allied physicians work tirelessly to identify areas for improvement and team up with talented surgeons, nurses, technicians, and administrators to develop and implement institutional changes to improve the quality of care at St. Joseph's Hospital and the bottom line."
The clinical pathways project is just one of a number of initiatives Allied physicians have undertaken in recent years to improve the quality of care at St. Joseph and the bottom line.
For example, Allied Anesthesia leadership proposed a plan in March 2013 to ensure that all patients receive antibiotics within one hour of a surgical incision, which is a standard set by the Centers for Medicare and Medicaid Services (CMS). Once the plan was implemented, prophylactic antibiotic failures at St. Joseph dropped from five-to-six a month to zero for five consecutive months. As a result, the hospital is eligible for millions of dollars in incentives from the CMS over the next three years.
In November 2013, Allied Anesthesia implemented a plan based on internal incentives to improve its record of on-time, first-case-of-the-day starts from a respectable 97 to 98 percent to 99.5 percent, which eliminated more than 200 minutes a month of wasted operating room time.
Other Allied Anesthesia initiatives include:

Creating and implementing an innovative Rapid Turnover Process to improve patient flow from pre-op to post-op. Enhanced teamwork and communication among physicians, nurses and technicians resulted in immediate and obvious improvements in the ease and speed of patient flow.
As active participants in the hospital's Preoperative Assessment and Testing Service Clinic, Allied anesthesiologists made substantial progress in increasing the percentage of patient charts completed 48 hours prior to surgery from a baseline of 25 percent to more than 80 percent.
Allied physicians are working to educate surgeons' offices about the importance of making sure each patient's paperwork and test results arrive at the Preoperative Assessment and Testing Service Center 48 hours before surgery in an attempt to reduce cancellation rates from 10 percent to less than 4 percent.
In an effort to eliminate waste and unnecessary costs, Allied Anesthesia revised its testing protocols and guidelines to eliminate all unnecessary preoperative testing. Allied physicians then reached out to educate surgeons and their office staff in hopes of convincing them to follow the testing guidelines despite substantial financial incentives to continue ordering unnecessary tests.
Allied Anesthesia created an OR coordinator position to work with the OR nurse manager to improve the efficiency of daily OR operations.
Allied Anesthesia leadership created a plan and, with the help of the nursing staff, implemented a "SuperUser" program to fill the gap left by a 45 percent reduction in anesthesia technicians. They trained existing nursing personnel and reconfigured workflow with no increase in nursing hours or personnel. With continued oversight and monitoring, the program has been considered a complete success.
---
About Allied Anesthesia
With 53 highly qualified anesthesiologists on staff, Allied Anesthesia provides adult and pediatric anesthesia services to St. Joseph Hospital of Orange, the Children's Hospital of Orange County, the Main Street Specialty Surgery Center and many other Southern California health care facilities.
All Allied Anesthesiologists are Board Certified in Anesthesiology, and they staff and manage the most efficient operating rooms in Southern California. Allied specializes in pediatric anesthesia, performing approximately 12,000 pediatric anesthetic procedures a year. All of the group's anesthesiologists have a special interest in excellent pediatric peri-operative care and are Board Certified or Board Eligible in Pediatric Anesthesiology.
Allied is a member of the California Society of Anesthesiologists and the American Society of Anesthesiologists.