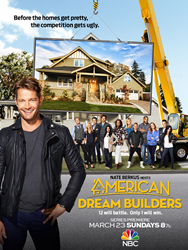 We wanted homeowners to feel empowered to tackle their own home design challenges.
Phoenix, AZ (PRWEB) March 21, 2014
Starting out with 12 experienced, talented designers, including Jay Riordan and Vanessa Deleon, two teams will be formed. Every week, each team will redesign, remodel, and renovate a home, directly competing with the other team for the chance to win $250,000 at the finale. But the designers don't get carte blanche. They have restrictions and rules of their own to follow. First, they can't build onto or extend the houses. Second, they must capture and retain the home's unique and distinctive design characteristics. The losing team each week has to send a designer home. When only two designers remain in the competition, they'll go head-to-head until a winning designer emerges and wins the grand prize.
"American Dream Builders" isn't about creating unpractical or impossible-to-recreate homes. The host of the show, Nate Berkus, states that the main goal is to "create magazine-worthy home transformations." But what it really comes down to is inspiring American homeowners to build their own dream homes. The products the designers use on the show are affordable, practical, and available to the everyday American. And that's why SelectShops.com signed on, to help Americans see that their dream home is possible, with the right inspiration and affordable, yet quality, products. "We wanted homeowners to feel empowered to tackle their own home design challenges," explained company founder Rick Steele. "Simple updates like custom window coverings or designer bedding can transform a room without breaking the bank." Every episode will feature decorating ideas and advice that anyone can use, with products that anyone can easily purchase.
The homes on "American Dream Builders" are specifically chosen based on their architectural style and distinction, but the show will also feature the stories of the families who live in those homes. As for design styles, throughout the season, there will be a variety of décor styles materialize, from a strong Spanish influence to a streamlined modern style.
The "American Dream Builders" premiere is on March 23, 2014 at 8/7c, and viewers will be able to see which SelectShops.com products are used to create dream homes for lucky homeowners. Once the show starts, the Select Shops blog will feature updates, episode recaps, and before and after photos from the show.
Headquartered in Mesa, Arizona, Select Shops is a favorite online retailer for customized and designer home decor products. The Select Shops family includes SelectBlinds.com and Bedding.com.