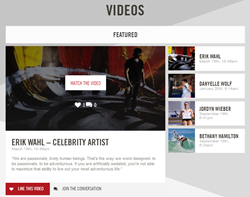 We are passionate, lively human beings. That's the way we were designed- to be passionate, to be adventurous. If you are artificially sedated, you're not able to maximize that ability to live out your most adventurous life.
La Jolla, Calif. (PRWEB) March 24, 2014
Natural High has released their newest drug prevention video in collaboration with celebrity artist and bestselling business book author, Erik Wahl. The video joins a roster of more than 40 celebrity films produced to inspire youth to pursue their passions and say no to drugs and alcohol.
"Art for me is not a noun, not a finished piece of perfect artwork that hangs in a museum but rather it is a verb. It's how I view life."
In his video, Wahl shares that artists don't need drugs to free their mind; drugs are actually creativity inhibitors. The TED presenter and author of #1 Bestseller Unthink: Rediscover Your Creative Genius is passionate about thinking outside of the box, and inspires youth to unleash their creative genius or "natural high." Garnering attention from celebrities such as Grammy award winner, Pink, and Twilight star, Nikki Reed, Wahl also doubles as an inspirational speaker for thousands of high-profile events and corporations such as Microsoft, Disney and NBC.
In light of the recent heroin epidemic and deaths of Philip Seymour Hoffman and Corey Montieth, Wahl's video comes at a time when young people need to hear positive messages around drugs use. Inspiring close to 7 million youth to live drug-free every year, Natural High collaborates with today's most influential role models, capturing stories of how they chose to follow their passions instead of turning to drugs. Celebrity ambassadors include professional surfers Bethany Hamilton and Rob Machado, motocrosser Travis Pastrana, NBA star Mike Conley Jr., and Olympic gold medal gymnast Jordyn Wieber.
As Natural High celebrates 20 years of encouraging youth to find their passions, the nonprofit organization will run an art-themed contest on social media to accompany Wahl's video release. Aspiring young artists can win by submitting their designs for a 20th anniversary limited edition t-shirt. Follow Natural High on Facebook, Twitter and Instagram to find out more.
Natural High is a 501(c)3 nonprofit organization inspiring youth to discover, amplify and pursue their natural high, giving them a reason to say no to an artificial high. In collaboration with more than 40 influential celebrities, Natural High engages youth in classrooms via their video series and research based curriculum, which is provided free-of-charge to all schools in the U.S.; online via Naturalhigh.org, and social media; and in the community via merchandise and events like Vans Warped Tour and contests. They currently work with more than 16,000 educators and reach 7 million youth every year. For more information visit http://www.naturalhigh.org and see what Natural High has accomplished in 2013.