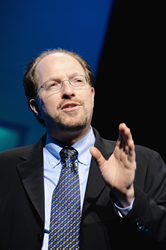 "The YouTube generation learns differently - in smaller bite size chunks - than a 50 minute 'put you to sleep' lecture or webinar"
Roanoke, Virginia (PRWEB) March 21, 2014
Tired of seeing resources spent on communication programs directed to eye care professionals and consumers that were ineffective and boring, Richard Clompus, OD launched The Clompus Consulting Group to bring strategic persuasion and presentation excellence to the eye care industry. Clompus, an industry veteran with over 30 years experience in patient care, global professional affairs and corporate training programs is changing the game.
Understanding why some doctors have tremendous success with products and services while others do not when they both have equal access to resources is the basis for strategic persuasion. This research identifies critical behaviors or "success factors" that are often hidden and counter intuitive. This strategic persuasion approach provides critical information for companies to replicate success and scale it to increase market share.
"Dr. Clompus' presentation on success factors with multifocal contact lenses at the 2011 British Contact Lens Association was one of the best and most original lectures I've heard at BCLA," said Professor Brien Holden of the Brien Holden Vision Institute.
Audio and video media provide newer, more effective ways for industry and eye care professionals to connect with their customers and patients. "The YouTube generation learns differently - in smaller bite size chunks - than a 50 minute 'put you to sleep' lecture or webinar," says Clompus. Attending Steve Job's keynote presentation in San Francisco introducing the iPhone in 2007 reset the bar for Clompus to create simpler, cleaner and more memorable presentations. "Great companies train dynamic doctors to lecture about new products but provide presentations that look like they were made in the 1980's. Even worse is when the speaker reads the slides to the audience," says Clompus. Dr. Clompus' communications skills were refined by publishing 45 articles, 3 book chapters and presenting hundreds of national and international lectures. During his tenure as director of The Vision Care Institute, LLC with Johnson & Johnson Vision Care, he introduced podcasts and videos. These skills will now be available to industry and eye care professionals.
"I have known Dr. Clompus for many years. His insight, careful thought, communication skills and genuinely wonderful personality are the highlights of his multiple skill sets. His greatest attribute, however, is his passion for his work. Richard's input into any and all projects is of tremendous value to the ophthalmic industry." Larry J Alexander OD FAAO.
The Clompus Consulting Group provides a variety of services described on their new website.