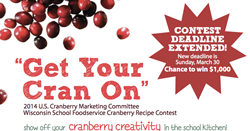 Wareham, MA (PRWEB) March 21, 2014
The Cranberry Marketing Committee USA, in partnership with the Wisconsin Department of Public Instruction, School Nutrition Team, wants school foodservice employees to "Get Their Cran On!" in a first-ever school foodservice U.S. cranberry recipe contest. The grand prize winner will take home $2,000: $1,000 for him/herself and $1,000 for his/her school kitchen. Entries must be received by Sunday, March 30, 2014 at 11:59 p.m. CDT.
This contest celebrates school foodservice professionals and recognizes their efforts to provide Wisconsin students with great tasting, nutritious meals they enjoy. Whether it's recipe development skills or expertise in selecting delicious and nutritious meals, these professionals know what it takes to build a kid-friendly, tasty and healthy plate.
Who: Wisconsin school foodservice employees (directors, managers, chefs, kitchen staff and others)
People who do not work in school foodservice are invited to tell their local schools about the contest.
What: Create an original, kid-friendly and healthful school breakfast or lunch recipe featuring a favorite Wisconsin-grown fruit – cranberries (fresh, frozen, dried, juice or sauce) – which can be easily incorporated into school foodservice year-round.
How: Recipes will be judged on the creative use of cranberries, nutritional profile, recipe presentation, appropriateness for school foodservice and alignment with the National School Lunch Program Guidelines.
Win: One grand prize winner will take home $1,000 cash and another $1,000 for kitchen supplies for their school or district.
Two runners-up will win $500 cash and another $500 for kitchen supplies for their school or district.
When: Contest kicked off Monday, February 10 at 12:00 a.m. CST; deadline extended to Sunday, March 30 at 11:59 p.m. CDT (originally March 23)
For official contest rules and details, visit: http://www.CranRecipeContest.com. In addition to cash prizes, winning recipes will be featured in the Cranberry Marketing Committee USA School Foodservice Toolkit and be considered for the upcoming Wisconsin Department of Public Instruction, School Nutrition Team's cycle menu!
About the Cranberry Marketing Committee (CMC)
The CMC was established as a Federal Marketing Order in 1962 to ensure a stable, orderly supply of good quality product. Authority for its actions are provided under Chapter IX, Title 7, Code of Federal Regulations, referred to as the Federal Cranberry Marketing Order, which is part of the Agricultural Marketing Agreement Act of 1937, as amended. This Act specifies cranberries as a commodity that may be covered, regulations that may be issued, guidelines for administering the programs, and privileges and limitations granted by Congress. For more information about the CMC, visit uscranberries.com or follow @uscranberries and Cranberry Cravers on Facebook.