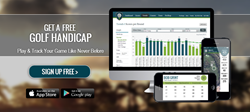 TheGrint new site is now focused on the iPhone Golf GPS and Golf Handicap functionality
Miami, FL (PRWEB) March 22, 2014
TheGrint is launching a new website with the intent of attracting more new members to its already rapidly growing community of golfers. The new site is more focused on iPhone Golf GPS functionality, and the easy to use Golf Handicap Tracker.
This is the first big revamp of the website since TheGrint launched on March 2013. Since then, the app has evolved greatly. And while the focus is still offering USGA Golf Handicaps, the app and website now offer more performance stats and a more complete and accurate Golf GPS rangefinder.
Earlier this year, TheGrint reduced its membership pricing to $19.99/year, and this new change shows the commitment to continue to provide better value to its members.
The next big release to come will be an improved Android version.
To know more go to TheGrint.com or reach out to contactus(at)thegrint(dot)com