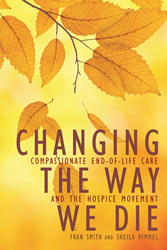 "Changing the Way We Die offers a bracing introduction to hospice at a time when an aging nation needs to consider alternatives to expensive and often inhumane traditional medical practices."-Bloomberg Businessweek
(PRWEB) March 21, 2014
Fran Smith appeared on Health Talk with Dr. Manny Alvarez in a segment entitled "What You Don't Know about Hospice Care." Dr. Manny interviewed Fran about her new co-authored book, Changing the Way We Die: Compassionate End of Life Care and the Hospice Movement.
Fran debunked several of the most common myths surrounding hospice care, including the idea that "hospice is a place you go when doctors can't do anything more for you." However, most patients are actually cared for in the home, where most Americans say they would like to be when they die. Another common myth Fran corrects is that hospice is only for the last few days of life; in fact, many patients enter hospice in the final six months.
Overall, Fran presents a more compassionate, less grim vision of hospice care, and provides a vital resource for anyone who wants to learn more about their options for end of life care.
Fran Smith has written for O: The Oprah Magazine, Redbook, Salon, Good Housekeeping, and many other newspapers and websites. A former John S. Knight Fellow at Stanford University and Pulitzer Prize winner, she lives in Dobbs Ferry, NY.