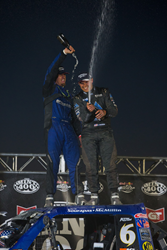 Last year The Mint 400 became the biggest off-road desert race event on the planet. This year we went even bigger. We had the largest group of world-class off-road racers, including the largest Unlimited Trick Truck group in the history of the sport.
Las Vegas, NV (PRWEB) March 21, 2014
On the heels of three action packed days and nights of off-road festivities throughout Las Vegas, The 2014 General Tire Mint 400 presented by Polaris, finished late Saturday after an incredible day of racing in the brutal Nevada Desert. San Diego native and third generation off-road racer, Andy "Bebo" McMillin and his co-driver Brady Thompson, won the historic race, while piloting the #6 Unlimited Trick Truck owned by Steve Sourapas, adding their names to the short and storied list of the best off-road racers in the world to ever accomplish such a feat. Andy also joined the ultra-elite list of drivers who have won The Mint 400 overall, twice. He walked away with $40,000 in cash, including $10k from FOX, $10k from NFL superstar and Mint 400 racer DeMarcus Ware, $10K from FORD, and $10K from the Best in the Desert "Trick Truck Challenge."
McMillin, who started the race in sixth place, battled for over six hours with off-road veterans Dale Dondel, Bryce Menzies, BJ Baldwin, Gustavo Vildosola Jr, Pat Dean, Gary and Mark Weyhrich, and a record field of fifty-seven Unlimited Trick Truck teams. The overall lead changed multiple times during the marathon 400-mile battle, making the race an electrifying event for the competitors, as well as the more than fifty thousand fans who showed up to spectate "The Great American Off-Road Race™"! Over one thousand racers and three hundred and thirty professional off-road race teams, competed in twenty-three classes of vehicles – and battled 400 miles of unforgiving Nevada desert!
"Last year The Mint 400 became the biggest off-road desert race event on the planet", said Mint 400 CEO Matt Martelli. "This year we went even bigger. We had the largest group of world-class off-road racers, including the largest Unlimited Trick Truck group in the history of the sport. We had a host of celebrities bring worldwide attention to the race including Red Bull Signature Series host and Mint 400 competitor Sal Masekela, newly signed Denver Bronco and NFL star DeMarcus Ware, and ten-time X Games gold medalist / four-time Rally America Drivers Champion Travis Pastrana – who not only helped shine a spotlight on our sport – but proved to the world that he can compete at the highest level of off-road racing in the world. We can't wait to share the jaw dropping race action that we captured, with our Red Bull Signature Series program on Sunday July 6th at 2PM Eastern on NBC."
The Mint 400 off-road festival week began with the second annual "4 Wheel Parts Mint 400 Off-Road Vehicle Parade" – which saw over one hundred off-road race vehicles parade down world famous Las Vegas Boulevard in front of crowds in excess of 30,000! Mint 400 founders Mel Larson, Norm Johnson and the 2014 Mint 400 Grand Marshall Parnelli Jones led fifteen million dollars worth of custom fabricated off-road racecars down the Strip, in tribute to the famed Mint 400 vehicle processions that took place on Fremont Street decades ago. Mint 400 festivities continued on Thursday night and all day Friday, including; The "KMC Wheels Pit Crew Challenge presented by Currie Enterprises", the crowning of the new "2014 General Tire Miss Mint 400", Dani Mathers, the "KMC Wheels Pit Crew Party", and the famous Mint 400 "Contingency and Tech Inspection" which covered and astounding ten square blocks this year. Estimates on attendance top sixty-five thousand in town, and over fifty-five thousand at the racecourse near Jean, Nevada on Saturday, March 15th.
2014 marks the fifth year in a row that the Mint 400 Inc. hired the off-road powerhouse production and marketing team Mad Media to promote and cover the event from both the air and on the ground – employing a crew of over sixty seasoned graphic designers, artists, social media ninjas, off-road cinematographers, photographers, and producers. Mad Media launched a massive viral social media campaign in January that made 13.29 million impressions online and spread like wildfire leading up to the race. The team employed twelve ground camera crews and two helicopters outfit with gyro stabilized camera systems, capable of capturing steady images at over 140mph for the race.
"There is no doubt that the Mint 400 is now the most visible desert off-road race worldwide. In fact I think it's safe to say our reach is only second to Dakar in terms of overall impact – but international growth is definitely part of our five-year plan. Our campaign for 2014 began with a soft launch in January, with targeted social media posts designed to crescendo the week of the race. Our analytics indicate we made over 13 million impressions, with an average reach of 200K per post. That's up ten fold from previous years and means a tremendous ROI to our partners and sport. Now it's time to settle in and fine-tune our two-hour program for the Red Bull Signature Series on NBC this summer. I can't wait to show this race – this sport – at this incredible caliber, to millions of Americans who have never seen an 850+ horsepower truck float over three foot holes at 140mph!" said Mint 400 COO Joshua Martelli.
For 2014 Mint 400 press photos/video, and artwork visit: http://www.themint400.com
For the latest info on The Mint 400 visit:
http://www.themint400.com
facebook.com/themint400
youtube.com/themint400
twitter.com/themint400race
instagram.com/themint400
MEDIA LIAISON:
Kilian Hamlin 517-643-1179
kilian(at)madmedia(dot)com
Management by:
The Mint 400 Inc.
Matt Martelli / Joshua Martelli
(760) 721-3600
matt(at)themint400(dot)com
josh(at)themint400(dot)com