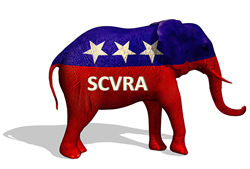 Santa Clarita, CA (PRWEB) March 21, 2014
The Santa Clarita Valley Republican Assembly conducted a straw poll contest for the upcoming Santa Clarita City Council race (April 8th, 2012). The poll was conducted from March 6th through March 9th at 3 different locations throughout Santa Clarita. While not intended to be scientific, there were more than 350 residents who participated in the event to help raise awareness of the election and increase actual voter turnout at the polls. The straw poll results are:
Santa Clarita City Council Candidates & Vote Totals
Dante Acosta = 37 votes
Sandra L. Bull = 4 votes
Moazzem H. Chowdhury = 11 votes
Dennis Conn = 4 votes
Stephen P. Daniels = 3 votes
Alan Ferdman = 279 votes
Berta Gonzalez‐Harper = 2 votes
Maria Gutzeit = 66 votes
Duane Harte = 22 votes
Marsha McLean = 39 votes
Gloria Mercado‐Fortine = 252 votes
Laurene Weste = 23 votes
Paul J. Wieczorek = 5 votes
The Santa Clarita Valley Republican Assembly is a chartered unit of the California Republican Assembly with over 152 active members. For more information see http://www.scvrepublicanassembly.org. They meet the 4th Thursday of each month in Newhall, CA.