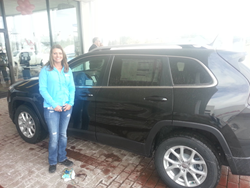 (PRWEB) March 24, 2014
Brandy Salesky, 11 year resident of Gilford, NH, hadn't been a member of SweepstakesToday.com's (Link http://www.sweepstakestoday.com) prestigious 10K Club when she became one of four grand prize winners in the Dannon Oikos - FitCation Sweepstakes.
"I found out through an email at 10:30 at night," Salesky said in a recent interview. "I was so excited! I had a trip choice of Hawaii, Costa Rica, Italy or the Grand Canyon. I chose Hawaii. I've always wanted to go there," she continued.
It was her first big win, which happened only some six months after she became a member of Sweepstakes Today which offers an always free membership. A month or so before she'd become a 10K member when $5 won in a MillerLITE contest put her over the top, meaning she'd accumulated wins of over $10,000.
Two days before she left for her Hawaii trip, which was valued at about $8,700, she received a phone call telling her she was the grand prize winner in the Cherokee Latitude AWD Giveaway Sweepstakes which entitled her to the jeep of her choice with a value of up to $27,430!
New to sweeping, Salesky won her first prize of $100 to spend in the ESPN shop in Feb, 2013. "It was the first (time I'd) ever entered …(a sweepstakes of) any kind and I won! I was a believer that people really do win things from that day on," she said. She was hooked and it wasn't long before she found SweepstakesToday.com.
"It was the best looking and easiest site to navigate," she said.
Asked if she ever felt addicted to sweeping, Salessky said, "I am definitely not a sweepstakes addict but I will never stop entering." She explained she spends from 15 minutes to an hour or more on the days she enters sweeps, "and sometimes I don't enter at all!"
"The thing I love the most about sweeping is that it's FREE! It provides me with things that I cannot afford to buy myself," she stated.
Sweepstakes Today LLC was launched online in March of 2004. The popular (online sweepstakes website http://www.sweepstakestoday.com LINK) site is based in Tulsa, Oklahoma and the custom Microsoft ASP/ASPX programming development is done in Salt Lake City, Utah. The website has now published over 45,000 sweepstakes, contest and giveaways.