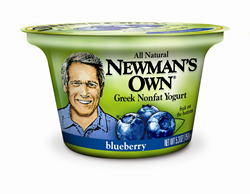 "It gives consumers a great-tasting, healthy option while supporting our philanthropic mission and contributing to the common good," according to Dave Best, vice president, marketing for Newman's Own
Westport, CT (PRWEB) March 20, 2014
Newman's Own introduces Newman's Own Greek Nonfat Yogurt to its lineup of great-tasting, philanthropy-driven products. The five-variety line is being introduced to the Atlantic Seaboard this month and will be available in other major markets, in addition to the metro Baltimore-Washington, DC region. Newman's Own Greek Nonfat Yogurt is a delicious option in the growing healthy Greek yogurt category.
Since 1982 when Paul Newman founded Newman's Own, all after-tax profits and royalties from the sale of Newman's Own products have gone to charity. The funds are distributed through Newman's Own Foundation. Over $400 million has been donated to thousands of nonprofit organizations to date.
The Newman's Own Greek Nonfat Yogurt arrives in the Baltimore-Washington metropolitan area, where contributions made by Paul Newman and Newman's Own Foundation from the profits of Newman's Own products have been supporting local charities for more than 30 years. Some of the Foundation's recent support in the metro area includes: Martha's Table (mobile food pantry in DC), Share Our Strength (Cooking Matters nutrition education program), Fisher House Foundation (respite homes for families of injured military personnel) and the John F. Kennedy Center for the Performing Arts (grades K-8 arts education programs).
"We're excited about launching Greek Nonfat Yogurt," said Dave Best, vice president, marketing, Newman's Own. "It gives consumers a great-tasting, healthy option while supporting our philanthropic mission and contributing to the common good."
The difference in the Newman's Own Greek Nonfat Yogurt is the fruit – big pieces of delicious fruit on the bottom – plus a thicker, creamier yogurt texture. Newman's Own yogurt has 12 grams of protein, five live & active cultures and zero grams of fat. It is all natural, with no artificial flavors, colors or preservatives.
The five varieties of Newman's Own Greek Nonfat Yogurt include: blueberry, pineapple, strawberry, peach and black cherry. The yogurt is available in a 5.3 oz. size and carries a suggested retail price of $1.49.
The following retailers carry Newman's Own Greek Nonfat Yogurt in their dairy cases: Stop & Shop, Giant, Hannaford, Shaw's, A&P, The Food Emporium, Pathmark, Waldbaum's, Big Y and Price Chopper.
###
About Newman's Own
Newman's Own, Inc., founded by Paul Newman in 1982, offers more than 100 varieties of great tasting, high quality food and beverage products, including salad dressings, pasta sauces, salsa, frozen pizza, frozen skillet meals, microwave popcorn, and refrigerated lemonades. Newman's Own Foundation continues Paul Newman's commitment to donate all profits to charity. More than $400 million has been given to thousands of charities since 1982. Learn more at newmansown.com and newmansownfoundation.org.