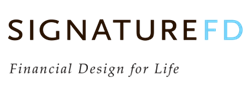 Students had a one-of-a-kind opportunity to participate in a day-long immersion into SignatureFD's innovative and unique firm culture and operations.
Atlanta, GA (PRWEB) March 25, 2014
Fed up with the traditional mundane career day and interview process, SignatureFD, a leading privately held financial design and advisory firm headquartered in Atlanta, took a different approach to recruiting its next group of interns. On March 3, the firm hosted seven financial planning students from the University of Georgia at its inaugural "A Day at SignatureFD" event.
The seven students, each at the top of their class, had a one-of-a-kind opportunity to participate in a day-long immersion into SignatureFD's innovative and unique firm culture and operations. The goal was not only to determine the best internship candidates, but also to introduce students to SignatureFD and show how its holistic Financial Design process separates it from other wealth management firms.
"We wanted to give the students a sense of what it's really like to work at SignatureFD. Our goal was to show them both what we do, which is help people use their wealth to live a great life, and how we do that, which is through the day-to-day efforts of our talented team," said Dan Dubay, SignatureFD partner. "Because our culture isn't like that of other financial firms, we thought experiencing it in person was the best way for prospective interns to get a sense of who we are."
The day began with a breakfast where students were able to get to know a cross-section of SignatureFD employees, from firm principals to client care personnel. Next, students toured the SignatureFD offices and then heard the "State of the Union" from co-founder and CEO Jeff Peller. The remainder of the morning was dedicated to SignatureFD InPractice, where members of the financial planning, investment and risk management teams explained their responsibilities and role in creating and managing a client's holistic financial plan.
In the afternoon, students were introduced to SignatureFD's Financial Design concepts. Internship candidates participated in a timed exercise to create a Financial Design for a family based on a short case study and then presented their findings.
"The Financial Design exercise allowed us to see who had the most creative ideas, the best knowledge base, the best leadership skills and ultimately the best presentation skills," said Blake Williams, a planning associate with SignatureFD. "Candidates had to articulate their ideas and communicate them effectively to the rest of the group, which gave us a better idea of who would be a strong candidate for an internship."
The day ended with one-on-one SpeedDating sessions. Each student spent 15 minutes with a SignatureFD employee, answering questions that enabled them to demonstrate who they were as a person, what made them unique, and their ultimate goals and aspirations.
About SignatureFD
SignatureFD, LLC, is an innovative and comprehensive financial design firm with a simple mission: to empower each client to use their wealth to live a great life. Founded in 1997, SignatureFD offers a full suite of wealth management services designed to meet the needs of high-net-worth individuals and families. These include asset management, asset protection, tax planning, cash flow and debt management, wealth transfer planning, and financial life planning. SignatureFD manages over $2 billion for 650 client families and has a client retention rate of 97% since opening its doors in 1997. For more information, visit the SignatureFD website at http://www.signaturefd.com.