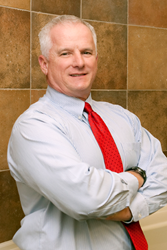 Texas City, TX (PRWEB) March 20, 2014
This March, in addition to performing laser gum surgery in Texas City, TX, Dr. Stephen Hale will be raising patient awareness about the effects that dietary choices have on oral health. Small but healthy dietary changes can significantly lower the likelihood of a patient developing symptoms of gum disease, though Dr. Hale still encourages every patient to pay close attention to oral health and be aware of changes that could indicate the development of periodontal disease.
Many patients know that certain foods should be limited because they have negative effects on teeth or the chemical balance in the mouth. These undesirable substances include sugary foods and drinks, simple and refined carbohydrates, and carbonated drinks. However, it can be easy for patients to overlook the fact that substances that are detrimental to the immune system, such as alcohol, can also increase the risk of gum disease, since the immune system helps fight off bacterial infections. To support immune system health, patients can focus on eating nutrient-rich foods and unprocessed foods that are produced free of hormones and antibiotics.
Patients who practice good oral hygiene and make dietary adjustments may never experience symptoms of gum disease. Unfortunately, some people are at a higher risk of developing gum disease and may require professional treatment despite their best efforts. Patients who notice symptoms like bleeding, redness, swelling, or pain can find relief by visiting Dr. Hale for laser gum surgery in Texas City, TX. The procedure that Dr. Hale performs is minimally invasive but still effective at treating the disease.
Gum disease and other oral health problems can have negative consequences throughout the body, which is why Dr. Hale urges patients to make their oral health a priority. Periodontal disease causes inflammation and is associated with a higher risk of various chronic health problems, which is why even early symptoms of gum disease should be taken seriously. Patients who need more information about gum disease or treatment options like laser gum surgery in Texas City, TX, are encouraged to visit Dr. Hale's website or call his office today.
About the Doctor
Stephen C. Hale is a general dentist offering personalized dental care for patients in Texas City, TX for over 26 years. Dr. Hale received B.S. degree in biology from Stephen F. Austin College and his D.D.S. degree from the University of Texas Dental Branch at Houston. He continues his education today and is a member of professional dental associations. Dr. Hale is part of one percent of dental professionals providing the LANAP® FDA cleared laser procedure for gum disease and periodontal treatment. To learn more about Dr. Hale and his dental services visit his website at http://www.stephenhaledds.com and call (409) 229-4184.