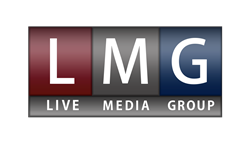 "Live Media Group has an amazing product in Virtual Wristband and we are ecstatic to provide the madness that is BUKU to both fans onsite and online."
Los Angeles, CA (PRWEB) March 21, 2014
Fans who cannot attend the BUKU Music + Art Project can still experience the event thanks to the partnership between Huka Entertainment, Winter Circle Productions and Live Media Group, who will be making the event accessible online and in real-time. Thousands will be attending the New Orleans event on March 21-22 and for the first time Huka Entertainment and Winter Circle Productions are bringing this event to online viewers all over the world with the development of Live Media Group's Virtual Wristband®. The one-of-a-kind technology creates an unlimited amount of 'virtual tickets' that online viewers can purchase to experience this event live as if they were there.
LMG's Virtual Wristband® - a live online pay-per-view model - provides online access codes so viewers can have access to multiple live cameras from their web enabled mobile device, computer or other second screen device. All featured artists' performances will be streamed online and will generate the same enlivenment of being in the crowds at BUKU Music + Art Project. Viewers can select their own camera view to create their customized experience to feel and witness the energy and the excitement at the event.
"Live Media Group has an amazing product in Virtual Wristband and we are ecstatic to provide the madness that is BUKU to both fans onsite and online," says Dante DiPasquale, Winter Circle Productions and BUKU Co-Founder.
With Virtual Wristband® fans can see and experience exciting performances, live from headliners Carnage, Paper Diamond, Conspirator, Blue Sky Black Death, Young and Sick, Gravity A, and many more.
"We're excited to offer fans that aren't able to physically attend BUKU, the opportunity to still attend virtually. Producing this live festival webcast enables people from all over the world to experience BUKU Music + Art Project and the city of New Orleans," said Jeff Kreinik, COO of Huka Entertainment.
Over the past few years, LMG has been transforming the entertainment broadcast experience into a 360 degree personalized look. Known as an innovative and fast-moving company, LMG working with Huka Entertainment acknowledged the demand for more accessible events and are now paving the way with Virtual Wristband® at BUKU Music + Art Project.
"Virtual Wristband® creates unlimited, affordable tickets. With this technology, the on line viewer who for some reason cannot attend can watch the artists' performances and experience the vibe of the event with on-line affordable access," says Brad Sexton, President and CEO of Live Media Group. "Virtual Wristband® was tailor built to industry and consumer needs so we are extremely excited to showcase its capabilities working closely with Huka Entertainment for the BUKU Music + Art Project."
For more information on BUKU Music + Art Project or to purchase an access code through Virtual Wristband® visit http://livestream.thebukuproject.com/
About Huka Entertainment
New Orleans, LA-based HUKA Entertainment is a privately held full-service production, talent-buying and promotion company that specializes in festivals, concerts and events of all sizes. Known for groundbreaking innovation at festivals throughout North America, HUKA Entertainment produced the Concerts for the Coast series featuring Jimmy Buffett, Bon Jovi and Brad Paisley; is the co-founder, producer, talent-buyer and promoter of the award-winning Rock The Ocean's Tortuga Music Festival (Fort Lauderdale, FL); is the co-founder, producer, talent buyer and promoter of Pemberton Music Festival (Pemberton, BC); is the co-producer and co-promoter of BUKU Music + Art Project (New Orleans, LA) and is the co-founder of the award-winning Hangout Music Festival (Gulf Shores, AL), for which it was producer, talent buyer and co-promoter from 2010 through 2013. HUKA Entertainment also books talent for and/or promotes a variety of concerts and events throughout the Southeastern United States. http://www.hukaentertainment.com
About Winter Circle Productions
Winter Circle Productions began in 2008 as an independent promotion and production house to attract music that its founders felt was missing from a post-Katrina New Orleans. Recipient of Offbeat Magazine's 2011 New Orleans Promoter of the Year Award and having hundreds of events under its belt, including the annual BUKU Music + Art Project, WCP is now positioned as one of the most trusted tastemakers on the Gulf Coast. Specializing in the unique and progressive, WCP strives to bring new ideas and concepts to the table and reward attendees with unforgettable experiences and long-lasting impressions.
http://wintercircleproductions.com
About Live Media Group
Live Media Group (LMG) is the premier full service entertainment and technology company offering turnkey solutions for 1st and 2nd screen LIVE events. LMG's services range from Creative Concepts, Live Direction, Production Services, Post Production, Transmission, Encoding, the nowlive video player technology, VOD Archiving and total fulfillment on all aspects of broadcast events. LMG's best in class reputation stems from collectively producing hundreds of the biggest events to appear on any screen including: Live from the Red Carpet at The Oscars, Emmys, Grammys, Bud Light Hotel, Superbowl and 50/50/1 concert events, The Hunger Games, Twilight and Hobbit franchise red carpet premieres, Jazzfest, Hangout, Yahoo Wireless Music festivals, E3 and CES to name a few. For more information visit http://live-media-group.com/
###