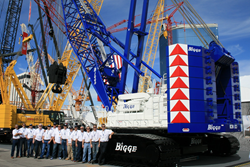 Las Vegas, NV (PRWEB) March 26, 2014
Bigge Crane and Rigging and Kobelco shared a major milestone for both companies at this year's CONEXPO. Bigge took delivery of a Kobelco CK2750G crawler crane, one of 25 new crawler cranes Bigge has purchased from Kobelco in 2014. The occasion marked the largest number of crawler cranes ever sold by Kobelco North America to one dealer in a quarter.
The CK2750G, the largest crawler in the CK-G series, is a marvel of engineering and a true example of a future looking crane. Almost everything about the CK-G line has been redesigned and engineered for efficiency, control, power, and safety. The crane features a nested boom that makes the crane easier to transport. Because it has a smaller footprint than typical cranes of its size, it is the most maneuverable crane in its class.
The signature feature of the CK-G series is that everything about it has been engineered to help conserve energy. Its winch allows for maximum speed even at low idle, saving energy. Its exclusive Auto Idle Stop (AIS) feature stops the engine when the crane is stopped, which lowers emissions. And of course, the new Tier IV clean diesel engine, which includes a new energy-saving assist system called the "G Mode," reducing fuel consumption by 30%.
"Bigge has been a very good dealer for us in the Western U.S. and Pacific Northwest," said Jack Fendrick, President of Kobelco Cranes North America. "They have gotten really good at retailing new cranes and they have a lot invested in parts and servicing Kobelco crawler cranes." The new Kobelco cranes are spread between Bigge's locations in Texas, Los Angeles and the S.F. Bay Area, and are available for sale and rent.
About Bigge:
Bigge's crane rental fleet has more than 600 machines, available for both bare lease and operated and maintained rentals. Bigge provides all our customers with dedicated project managers, factory trained technicians, and field support, and has a nationwide, strategic network of service locations. Bigge operates and bare leases cranes on a nationwide basis out of locations in nine U.S. states, from California to Virginia.