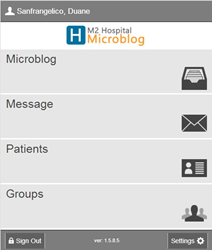 We can communicate to our staff and stay ahead of our patients' care if they have urgent labs or need to be scheduled for a follow up appointment.
Jupiter, FL (PRWEB) March 22, 2014
Physicians at Jupiter Medical Center, who are participating in the Palm Beach Accountable Care Organization (ACO), are piloting an innovative technology called "MicroBloggingMD" created by M2 Information Systems, Inc. This technology allows physicians to receive secure emails and text message alerts when Medicare beneficiaries, enrolled in the ACO, have any encounter at Jupiter Medical Center including the ER and Urgent Care Center.
MicroBloggingMD provides doctors with 'real-time' patient status updates instead of learning about them hours or days later. Example notifications may include admissions, discharges, consult requests, radiology reports and labs. In addition, various clinical information is sent directly to the physician to speed up the diagnosis and treatment process.
With their clinical automation, MicroBloggingMD reduces texting demand thus improving accuracy and efficiency for hospital staff. The speed at which the information is received may improve outcomes for patients, while reducing cost for the hospital, insurance company and ultimately the patient. This secure and HIPAA-compliant messaging also spurs collaboration among doctors, another benefit to the patient.
"MicroBloggingMD offers physicians a safe, secure and efficient way to communicate in a HIPAA-compliant manner," said Irma Lopez, MD, Internal Medicine, Palm Beach ACO Member, who has been testing the MicroBloggingMD application since August 2013. "We can communicate to our staff and stay ahead of our patients' care if they have any urgent labs or need to be scheduled for a follow up appointment."
Dr. Lopez is currently using MicroBloggingMD to receive notifications on patients discharged from Jupiter Medical Center within 24 hours after leaving so she can track her patients and schedule follow-up appointments to ensure her patients remain healthy and avoid readmissions. Dr. Lopez is also using this technology to receive alerts on patients with critical labs to help diagnose patients quickly. Dr. Lopez can receive these alert securely on her mobile device and can respond without waiting for a nurse to call her.
About M2
M2 Information Systems, Inc. is a healthcare information technology & service company based in the Pacific Northwest. The knowledge gained from years of delivering progressive products and premier customer service has coalesced into our flagship application MicroBloggingMD. Through an OEM relationship, and software licenses, M2 products are installed in hundreds of US hospitals. Additional information is available at: http://www.microbloggingmd.com or (800) 598-6647.
About Jupiter Medical Center
A not-for-profit 283-bed regional medical center consisting of 163 private acute care hospital beds and 120 long-term care, sub-acute rehabilitation and Hospice beds, Jupiter Medical Center provides a broad range of services with specialty concentrations in oncology, imaging, orthopedics & spine, digestive health, emergency services, lung & thoracic, women's health, weight management and men's health. Founded in 1979, the Medical Center has approximately 1,500 team members, 575 physicians and 640 volunteers. For more information on Jupiter Medical Center, please call (561) 263-2234 or visit http://www.jupitermed.com.
###