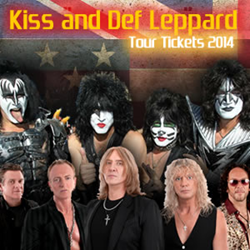 Kiss & Def Leppard team up to bring some of the best rock and roll music to concert audiences in Salt Lake City, Charlotte, Minneapolis, Tulsa, Dallas, Indianapolis, Nashville and Houston with tickets going on sale for the public to buy today.
Salt Lake City, UT (PRWEB) March 21, 2014
Kiss and Def Leppard tickets go on sale for the public to buy today for concerts in Salt Lake City, Charlotte, Minneapolis, Tulsa, Dallas, Indianapolis, Nashville, Houston, Ridgefield, Toronto, Denver, Cincinnati, Des Moines, Phoenix and two Los Angeles area shows. Tomorrow Kiss and Def Leppard tickets go on sale for concerts in near Detroit, Atlanta, New York City, Virginia Beach, Pittsburgh, Austin and St. Louis.
After five decades and record sales in excess of 100 million, KISS continues to rock. Founded in the 1970's, the glam metal band's original line-up consisted of Paul Stanley, Gene Simmons, Ace Frehley, and Peter Criss. Experimenting with makeup and costumes, each band member took on an alter ego: Simmons became The Demon, Stanley became Starchild, Frehley became Spaceman, and Criss became Catman. Stage shows featuring blood, fire, and pyrotechnics further added to the band's appeal. Their 1975 LP, Dressed to Kill, included the band's classic anthem, Rock And Roll All Night. KISS followed up with hit singles like I Was Made for Lovin' You, and Sure Know Something. Frehley and Criss left the band in the early 80's, to be replaced by Eric Singer and Tommy Thayer. The band's surprise 1991 hit, God Gave Rock N Roll To You, introduced glam's greatest band to a new legion of fans.
With over 100 million records sold, Def Leppard remains one of the most successful heavy rock groups of all time. The British band rose to prominence in the 1980's with Joe Elliott on vocals, Rick Savage on bass, Phil Collen on guitar, Steve Clark on guitar, and Rick Allen on drums. Their third album, Pyromania, reached number two in the U.S. charts, with hit songs like Photograph and Rock of Ages. In 1984, Allen lost his arm in a car accident, but kept the rhythm on a specially adapted drum kit. DefLeppard's 1987 album Hysteria soared to number one around the world, spawning a string of hits including Women, Animal, Pour Some Sugar on Me, Armageddon It, Rocket, and their first number one single, Love Bites. Following Clark's death in 1991, Vivian Campbell joined the band in time to promote their second number one album, 1992's Adrenalize. With this line-up, the band continues to pack stadiums across the globe.
Other shows at the Usana Amphitheatre include a Motley Crue and Alice Cooper show plus a Blake Shelton concert. Across town at the EnergySolutions Arena, catch a Lady Gaga, Eagles or Katy Perry concert or a Utah Jazz NBA game. For fans living further away, think about booking a Salt Lake City Utah hotel and create a mini vacation.
Buy tickets now and pay less at KissAndDefLeppard.com from TicketsCheapest.com where price surveys prove fans will find seats cost less than other resale sites including ticket prices that beat Stubhub. In addition to a huge inventory of tickets, even after sold out at the box office, find the complete tour schedule for the Kiss and Def Leppard tour. Buy tickets at KissAndDefLeppard.com online or find the right Kiss and Def Leppard seats by phone at 855 805 5266 for professional personal assistance.
About Financial Firebird, Kiss And Def Leppard and Tickets Cheapest
The site with special software to find the cheap concert tickets online is affiliated with the Financial Firebird Corporation Travel Group. Financial Firebird Corporation, established in 2000 and a proud BBB member, provides unbiased consumer information, software and marketing services. These sites for consumers to buy tickets online operate in the resale market and maintain no relationship with the venues or performers. The resale ticket market allows consumers access to popular events once the box office has sold out or to buy premium seats when the venue no longer offers any inventory. Within the group of these secondary market ticket services the Financial Firebird owned ticket sites offer lower prices than competitors. Find the sites at KissAndDefLeppard.com and Tickets-Cheapest.com.