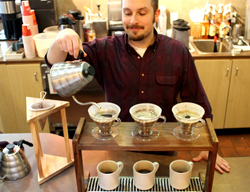 This is the same high-quality equipment we offer to our independent coffee house customers for use at their brew bars. Everything has been tested for quality, performance and ease of use at our cupping lab. - Greg Ubert
Columbus, Ohio (PRWEB) March 21, 2014
Ohio coffee roaster Crimson Cup Coffee & Tea is making it easier than ever to enjoy hand-pour specialty coffee at home. The Columbus, Ohio roaster recently expanded the selection of home brewing equipment on its website and at its Crimson Cup Coffee House in Clintonville.
Crimson Cup's home-brewing equipment selection includes popular siphon, drip and hand-pour systems from Hario, Chemex and Bodum, along with accessories such as digital scales and filters. The company's website also features instructional videos showing how to prepare coffee using various home-brewing systems.
"This is the same high-quality equipment we offer to our independent coffee house customers for use at their brew bars," said Founder and President Greg Ubert. "Everything has been tested for quality, performance and ease of use at our cupping lab."
He noted that manual brewing methods have become increasingly popular among home enthusiasts and coffee-shop baristas alike. "Controlling every variable in the brewing process tailors each cup to the coffee-drinker's preferences," he said.
Hand-brewing methods are great for bringing out the unique origin characteristics of each coffee. "Single-origin selections such as our highly-rated Ethiopian Sidamo Kellenso and Organic Bali Kintamani Natural deliver an especially awesome cup when prepared with hand-pour equipment," he said.
About Crimson Cup Coffee & Tea
Since 1991, Crimson Cup Coffee & Tea has hand-roasted specialty coffee in Columbus, Ohio and taught independent business owners how to be successful through its coffee shop franchise alternative program. Sustainably sourced Crimson Cup coffee is available through a network of more than 350 independent coffee houses, grocers, college and universities, restaurants and food service operations across 28 states, as well as the company's own Crimson Cup Coffee House in the Columbus suburb of Clintonville. For more information, visit crimsoncup.com.