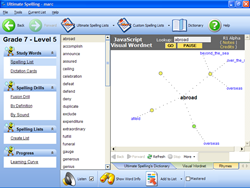 From better typing efficiency to acquiring new knowledge at a faster pace, these skills prove to be critical in any fast-paced work environment.
New York City, NY (PRWEB) March 24, 2014
Software developing company eReflect proudly announced today that the company is reaching out to the Spanish market through a collaboration with Smart 365, a company that offers interactive technological solutions to other enterprises, institutions, and governmental bodies. The agreement between Smart 365 and eReflect will promote Ultimate Spelling™, 7 Speed Reading™, Ultimate Vocabulary™, and Ultimate Typing™ to a wider Spanish-speaking audience and help students and everyone else who seeks to improve on their writing, reading, and typing skills a chance to do so through expert-designed lessons and interactive learning.
People who wish to achieve faster typing performance will be able to use the practice lessons and typing games offered by Ultimate Typing™ to focus on all aspects of touch typing. Students who wish to enhance vocabulary skills will find the exercises and vocabulary activities of Ultimate Vocabulary™ helpful, because they are keyed through grade-appropriate word lists. Learning to spell can be a frustrating experience for young learners in any language, but eReflect provides a structured solution with its Ultimate Spelling™ activities and spelling games, helping students grasp spelling patterns and quickly become better at orthography.
College students, people with busy schedules, and anyone who wants to read more but cannot find the time will all be able to improve their reading speed with 7 Speed Reading™, another software package offered through the collaboration with Smart 365. 7 Speed Reading™ helps people improve reading speed by first eliminating bad reading habits such as subvocalization and regression, and then by offering training in new reading habits that boost overall reading speed and comprehension. As a result, a speed reader can read more in less time without negatively affecting their understanding of what's being read.
eReflect is hopeful that the collaboration with Smart 365 will allow the wider US Spanish market access to a plethora of essential, 21st century skills necessary for becoming more efficient at their jobs and increase their potential and career prospects. From better typing efficiency to acquiring new knowledge at a faster pace, these skills prove to be critical in any fast-paced work environment.
For more information about the products of eReflect, please visit http://www.ereflect.com.
About eReflect
eReflect is a world leader in self improvement software, with our products currently being used by tens of thousands of happy customers in over 110 countries. When Ultimate Vocabulary was released in 2006, it quickly became the most sought after and awarded vocabulary software available. Since then eReflect has released a number of highly successful and popular products in the speed reading, spelling, and memory improvement markets.
We pride ourselves on creating the best products available. Each eReflect product represents the painstaking work of top content experts, engineers, academic studies, and customer research. We back all products with our famous 365 day no-questions-asked money-back guarantee.