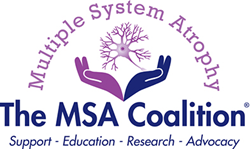 A reliable biomarker for MSA could contribute to the diagnosis, treatment and disease modification of MSA
Boston, MA (PRWEB) March 21, 2014
The Multiple System Atrophy Coalition has awarded a $25,000 grant to Dr. Roy Freeman of Beth Israel Deaconess Medical Center to carry out a pilot study to determine whether alpha-synuclein deposits in cutaneous autonomic nerves is a valid biomarker for multiple system atrophy.
"Successful development of a biomarker for MSA would assist in the evaluation of drugs or other interventions that have neuroprotective qualities and offer the possibility of slowing, halting or reversing the rapid progression of MSA," stated Dr. Freeman. "A reliable biomarker for MSA could contribute to the diagnosis, treatment and disease modification of MSA by improving diagnostic accuracy, defining disease progression and providing an objective measure of the response to disease modifying interventions."
"The MSA research community largely believes that neuroprotective therapies need to be administered earlier in the course of MSA to provide benefit," stated Judy Biedenharn, co-President of The MSA Coalition. "Therefore, identification of a biomarker that leads to an early and definitive diagnosis of MSA is essential. We are very pleased that our MSA Research Fund is allowing the Coalition to support important research projects such as the one being conducted by Dr. freeman."
Dr. Freeman will recruit 12 subjects with probable MSA to participate in the study. Those interested in participating in the research should contact Dr. Freeman at:
Roy Freeman, MD
Professor of Neurology
Harvard Medical School
Director, Center for Autonomic and Peripheral Nerve Disorders
Beth Israel Deaconess Medical Center
One Deaconess Rd
Boston, MA 02215
Phone: (617) 632-8454
Fax: (617) 632-0852
About The MSA Coalition® Research Grant Program
The Multiple System Atrophy Coalition established a dedicated MSA research fund in 2011. Then, the organization established an MSA Research Grant Program along with a scientific advisory board (SAB) in 2013. The goal of the MSA Research Grant Program is to identify and fund MSA research projects that have the potential to discover a cause, disease modifying treatments, and hopefully a cure. The world-class SAB ensures that The MSA Coalition is funding the most promising research. At present, 75% of each donation received by The MSA Coalition goes directly into the research fund. The other 25% used to fund advocacy, awareness, educational initiatives and minimal operating expenses.
For more information or to donate to The Multiple System Atrophy Coalition, please visit: http://www.Multiple-System-Atrophy.org.
About Multiple System Atrophy
Multiple system atrophy (previously known as Shy-Drager Syndrome) is a rare and fatal disorder with less than 15,000 Americans diagnosed and 35,000 undiagnosed at any given time. According to the National Institutes of Health, "Multiple system atrophy is a progressive neurodegenerative disorder characterized by symptoms of autonomic nervous system failure such as fainting spells and bladder control problems (neurogenic orthostatic hypotension), combined with motor control symptoms such as tremor, rigidity, and loss of muscle coordination. MSA affects both men and women primarily in their 50s. MSA tends to advance rapidly over the course of nine to 10 years, with progressive loss of motor skills, eventual confinement to bed, and death. There is no remission from the disease. Currently no cure is available."