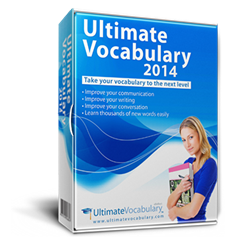 The opportunities for learning have expanded since technology and the Internet have become more widely available.
New York City, NY (PRWEB) March 26, 2014
Richard Graham has shared his secret on how to master English, or any other language, without having to travel and live where that language is spoken. eReflect features Graham's guest post on this topic on their Ultimate Vocabulary™ blog, and readers will benefit from his tips on the best way to achieve native-speaker mastery of English using technologies and the Internet.
The GenkiEnglish.com CEO debunks the myth that the only way to learn a language is to travel overseas and be immersed in the culture and language. While he admits that immersion in a culture where the language is spoken by native speakers will give the learner the confidence and stimuli to improve their language skills, especially pronunciation and oral communication, this is not the only way.
Technology has made this approach redundant, Graham asserts. Educational software, video chatting and conferencing, and an array of media and resources available online and in libraries allow people to fully immerse themselves in the targeted language and exponentially improve their efficiency of it, all in the comfort of their home.
Smartphone games, educational apps, and Internet access at almost any time makes it easy for ESL learners to increase their daily interaction with a language, and through repeated exposure and practice, helps them improve their English language skills.
eReflect agrees with Graham that learning is no longer confined to classrooms. Learning can take place anywhere and at any time, through new media. A learner can watch foreign films, chat with native speakers of the targeted language, and engage with social media in that language as a way of practicing. The opportunities for learning have expanded since technology and the Internet have become more widely available. If a person wants to improve their vocabulary skills in English, for example, they don't need to resort to monotonous review of uninspiring flash cards. They can get on line to find a chat forum in English, they can enrich their vocabulary with a vocabulary app, or get targeted practice using both exercises and fun games with a vocabulary builder like Ultimate Vocabulary™.
eReflect believes that language learning today is mobile and local, and joins with Graham in reminding readers that it's not necessary to travel overseas to learn English.
***********
For more information on how you can benefit from Ultimate Vocabulary, please visit its official website, http://www.ultimatevocabulary.com.
About Ultimate Vocabulary™
Ultimate Vocabulary provides a proven and powerful platform, built to improve anyone's vocabulary.
The interactive self-improvement system provides more learning tools than any other program on the market, as well as more information on words.
The Ultimate Vocabulary software provides each and every user with a personal computer tutor. Providing a step-by-step guide to learning a powerful vocabulary, Ultimate Vocabulary is the learning tool everyone can benefit from.
Of course, the software is also backed by eReflect's iron-clad money back guarantee.