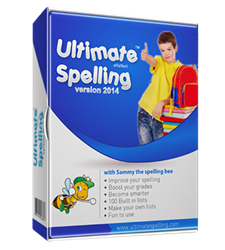 Student spelling bee competitions show that practice and a love for language let young students achieve impressive competency in orthography...
New York City, NY (PRWEB) March 28, 2014
Ultimate Spelling™ developer eReflect, ambassador of orthography, today announced the company's congratulations to the winner of the California Central Valley Spelling Bee contest. The winner, Aditya Mishra, competed against 64 other spellers from a total of six counties. The word "distichous" offered the seven-grader the winning points and qualified Aditya to participate in the Scripps National Spelling Bee competition to be held in Washington D.C. in late spring.
For anyone who can confidently say, "I spell well," eReflect encourages participation in online and conventional spelling bee competitions. Spelling bee contests allow orthography enthusiasts to flaunt their spelling skills and dazzle judges and attendants alike with their ability to correctly spell words like "seguidilla" (a type of vocal genre with alternating number of syllables for each line in a stanza) and "convalescence" (the time spent recovering from an illness, a synonym of "recuperation").
Learning to spell can be an arduous process, especially if the only method provided to learn to spell uses boring, traditional exercises. Spelling software like Ultimate Spelling™ helps young learners and people of any age who wish to improve their orthography do so with engaging, interactive activities and games, making the process less overwhelming.
Whether a person initially learns to spell using spelling software or not, eReflect encourages everyone to never stop brushing up their spelling skills and, if possible, participate in spelling bees to test their skills and hard-earned spelling competency. Spelling is an essential skill and one that will never be less than an important language skill. Especially today, when written communication is rapidly growing given the popularity of online chatting lingo and texting, spelling mastery is more imperative than ever.
Student spelling bee competitions show that practice and a love for language let young students achieve impressive competency in orthography, to such an advanced level that even linguists, lexicographers, and other language professionals are impressed. eReflect is looking forward to the May 2014 Scripps National Spelling Bee, when the best young spellers will compete against each other trying to spell obscure words like "schadenfreude" and "succedaneum."
***********
For more information about how Ultimate Spelling software can improve spelling performance for you and your family, please visit the official website at http://www.ultimatespelling.com.
About Ultimate Spelling™
Ultimate Spelling provides a modern and easy to use spelling software that has been designed with one goal in mind – making children want to learn.
It is a fast and easy way to master even the most complicated spelling, without the need to write long lists or complete boring tests.
In fact, Ultimate Spelling provides more than just spelling help. It is a complete educational resource that boosts all level of a child's literacy.
Containing a personal computer tutor, Ultimate Spelling is the most realistic step-by-step guide to flawless spelling ability.