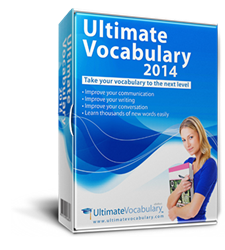 A new word that is tied to an important personal experience or memory will suddenly get a more meaningful status.
New York City, NY (PRWEB) March 29, 2014
eReflect, developer of Ultimate Vocabulary™ software, has just published a guest post by educator Michael Stavropoulos. In his post, Stavropoulos explains to Ultimate Vocabulary blog readers the importance of having a monolingual dictionary for learning new words.
His approach on how to improve vocabulary rests on the simple principle of proper word usage. According to Stavropoulos, a dictionary will help the learner study and practice the new word by offering the student both a clear definition of the word and an example of its use. These two components are essential in steadily expanding a working vocabulary with new words, and being confident in using them.
Ultimate Vocabulary™ readers are encouraged by the eReflect team to follow Stavropoulos's advice and learn power words and other key concepts following this lexical strategy of vocabulary acquisition. This technique favors proper learning, rather than rote memorization of a word or concept.
Even better, as Stavropoulos explains, writing down the newly learned words in a sentence, using a vocabulary journal or other daily study notebook, helps solidify that knowledge and acts as a point of reference for revising, studying, and eventually mastering new vocabulary.
A key tip Stavropoulos shares is to create sentences that directly relate to personal life and experiences as this helps the new words to become both meaningful and memorable. When learning is tied to personal experiences, the process becomes easier; knowledge is no longer a distant, objective concept, but something that allows a person to express ideas, communicate with others, and even learn to better understand themselves and the world through the new concepts the vocabulary words provide.
A new word that is tied to an important personal experience or memory will suddenly get a more meaningful status. Consequently, the vocabulary student will be more likely to remember it and reuse it, because it's easy to remember and because it has become a tool for personal expression. This process helps learners gradually increase their vocabulary and improve the quality of their conversation, moving it from rote repetition to fluency, both in speech and in writing - something that is especially important for vocabulary being learned in a new language, as eReflect points out. The team at eReflect is pleased to be able to share Stavropoulos's tips, and encourages vocabulary learners to try out different vocabulary learning approaches until they find the one that works best for them.
***********
For more information on how you can benefit from Ultimate Vocabulary, please visit its official website, http://www.ultimatevocabulary.com.
About Ultimate Vocabulary™
Ultimate Vocabulary provides a proven and powerful platform, built to improve anyone's vocabulary.
The interactive self-improvement system provides more learning tools than any other program on the market, as well as more information on words.
The Ultimate Vocabulary software provides each and every user with a personal computer tutor. Providing a step-by-step guide to learning a powerful vocabulary, Ultimate Vocabulary is the learning tool everyone can benefit from.
Of course, the software is also backed by eReflect's iron-clad money back guarantee.