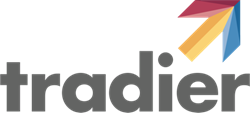 Checkout our Brokerage Platform and API
Charlotte, NC (PRWEB) March 21, 2014
Next generation trading API and brokerage platform Tradier Inc. today appointed Craig Russell to be its Senior Vice President of Product and Chief Evangelist.
In his new role, Russell reports directly to Tradier Chairman and CEO Dan Raju. Russell primarily will be responsible for Tradier's Product and Developer Evangelism, Platform Engagement and Product Roadmap. Prior to joining Tradier, Russell served as Director Active Trader Products for Interactive Data, and was responsible for the successful growth of the firm's flagship e-Signal platform and its partner ecosystem.
To fill this critical leadership role, Raju explained, Tradier sought a candidate with an established track record of creating and managing vibrant, productive ecosystems, as well as a proven leader who understands trading platforms and developer-driven API technologies.
"Craig brings deep leadership experience and a strong track record of enabling great trading experiences through engaging platform providers" Raju said. "His ability to inspire platform providers to succeed and developers to innovate is a critical need for Tradier. Craig has a genuine commitment to quality and completely understands innovation through iterative product lifecycles."
Jeyashree Chidambaram, vice president of Trading Technologies at Tradier, said Russell also understands the value of robust trading platforms, and the "magic" that great trading engines can create in the industry.
"Craig's deep understanding of the Trading API's and changing market data needs of platforms will help Tradier offer newer innovative products," Chidambaram said.
"I'm extremely excited for the opportunity to join the Tradier team of technologists, a group that has created a ground-breaking business model," Russell said. "I'm looking forward to working with our platform provider, developers and the Tradier family on this exciting, innovative journey."
About Tradier, Inc.
Tradier, Inc. (http://www.tradier.com) is a financial services cloud platform provider that offers a ground-breaking platform to serve a range of clients including platform providers, developers and traders. The Tradier offering features an innovative set of fully hosted APIs, modules and "out of the box" tools that are being leveraged by a fast-growing list of platform providers and developers.
Contact:
press(at)tradier(dot)com
11016 Rushmore Drive, Suite 350
Charlotte, NC, 28277