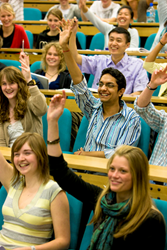 London, UK (PRWEB UK) 27 March 2014
UK educational institutions could be inspected if they take on "unusual" numbers or "unplanned" extra students when the cap on undergraduate recruitment is lifted in 2015-16. This was made evident by Mr. David Willet during his recent speech in Australia.
The minister quoted plans made by the US president to focus federal funding on institutions with good student retention. He claimed that "This is the sort of idea we might consult on in the future – perhaps with a benchmarking system for retention, in which the funding council had a clear remit to claw back funding if an institution had shown a significant decline over time."
In the past this was not a big worry for institutes but now with limited funding and dependency of student tuition, the ability to reduce dropout rates has become even more important. If regulators start to use drop out rates to trigger reviews into particular Universities, there would be even more reason to improve the university system to reduce dropout rates.
With all this pressure and fear of losing their "Trusted status", Universities would therefore have to be more actively involved in monitoring their students, and to report back to the UKBA in order to avoid being penalised or identified in some way as having student numbers which are "unusual".
Quality also becomes a questionable factor as number of student rise. When the number of students increase there will be even more pressure to meet the demand while retaining quality.
A good Student Attendance Management System (SAMS) can quickly add value to any institution. SAMS can be a key tool to help institutes, with the ability to identify students quickly and easily who are displaying patterns of attendance and engagement that are cause for concern. This information can help staff to make effective intervention with appropriate support and/or encouragement to ensure that the student stays on their course.
Information on unauthorised absences and late attendance should be highlighted to responsible staff, who can then view the context of the student's overall attendance history and then contact them by text message, email, telephone or letter through the SAMS there and then. Without a good system, the same process takes several weeks, by which time the problem is likely to have become entrenched and therefore insoluble.
Additionally, an effective Student Attendance Management System, which operates in real time, enables staff to focus on more important value adding tasks against spending too much time on administrative tasks.
An effective Student Attendance Management System can deliver 3 key benefits for educational institutions:
1. Tier 4 Licence compliance
2. Lower administrative costs
3. Increased revenues through improved student retention
Most manual systems involve the taking of registers, transferring data into spreadsheets before collecting, further data transfer and then data analysis, before being able to identify potential issues. This all takes up an enormous amount of staff time, in academic and administrative departments, so the operational costs are frightening and present a major opportunity for efficiency improvement.
The time this process takes often means that it is too late to take any meaningful action by the time any issues have been highlighted.
A good Attendance Management Policy supported by a good Student Attendance Management System can deliver the following benefits to Students and their institution:
*Improved Student Attendance and engagement
*Improved communications with students and staff
*Reductions in operational costs
*Improved staff morale
*Improved student attainment
*Health & Safety, Duty of Care
*Improved student retention
*Improved revenues
*Improved institutional reputation
*Increased demand from new students
*Tier 4 Compliance
BQuSAMS (Student Attendance Management System) ensures that users can easily implement their Student Attendance Policy, helping to improve attendance and engagement, improving the student experience and compliance with Tier 4 licence obligations in an efficient and cost effective manner.
BQuSAMS is happy to discuss individual organisational needs and to match a system in both functionality and cost to our customer's needs. http://www.bqutms.com/overview