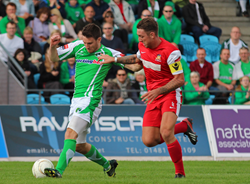 "Put simply, from both a legal and commercial perspective, Image Rights Registration makes considerable sense". Keith Laker, CEO, Icondia Limited.
London, United Kingdom (PRWEB UK) 24 March 2014
Icondia, the Image Rights Registration specialist, is delighted to announce that it has just submitted an application for registration of the Image Rights for Guernsey Football Club ("GFC") as a corporate personality.
This represents the first registration of a football club under the Image Rights (Bailiwick of Guernsey) Ordinance 2012 ("the IRO"). Through the registration of Image Rights, this is the first law in the world specifically written to allow 'personality' to become an asset, in the form intellectual property.
As a result of GFC registering its personality, any unique and distinctive attributes of the club personality may receive statutory protection against the deliberate infringement and unauthorised economic exploitation of those images by others.
Aspects of the club's personality that are classified as images include such elements as its insignia, club strip, catch phrases, slogans, merchandise and – most importantly - images of the club's players wearing the GFC strip.
Commenting, Keith Laker, CEO of Icondia said:
"We pointed out the well-documented difficulties that Arsenal FC had more than a decade ago, in attempting to control the sale of unauthorised memorabilia. The point was not lost on the GFC, which despite its size, is extremely forward-thinking on all matters concerning image".
Registration of Image Rights makes good legal and commercial sense, as for a modest cost and simple registration process, this law provides statutory protection of all unique and distinctive elements of a personality, be it an individual, club or corporation.
The IRO brings clarity to an area of law where at present there is often ambiguity as to what can be considered as 'image rights'. Furthermore, registration using the Guernsey law does not necessarily negate any existing contractual arrangements regarding image rights. On the contrary, this law potentially strengthens those other arrangements.
With regards registering Image Rights Keith Laker added:
"I would urge any club, football or otherwise, which is established or up and coming to seriously consider registering its personality. It is a simple and inexpensive process, which compliments and extends the protection offered by other forms of intellectual property protection, such as copyright and trade marks.
"Put simply, from both a legal and commercial perspective, Image Rights Registration makes considerable sense".
Commenting on the registration, John Loveless, Company Secretary of Guernsey FC said -
"We are delighted to have been advised and assisted in this matter by Icondia and to be the first football club to take advantage of this ground breaking legislation as we continue our journey within the English Non-League System."
ENDS
For further information contact:
http://www.icondia.com
Icondia
Keith Laker, CEO
E: keith.laker(at)icondia(dot)com
T: +44 (0)1481 740490
Adrian Shaw, Director of Marketing
E: adrian.shaw(at)icondia(dot)com
T: +44 (0)483 271291
M: +44 (0)797 9900733
Notes for editors:
1. About Icondia
Icondia, established in 2012, is solely dedicated to the field of personality rights, built on the collective expertise of its team drawn from legal, academic, fiduciary and commercial backgrounds.
This team shares a vision and enthusiasm for the application of personality rights now, and in our future society and believes personality rights will become increasingly important for everyone – not just celebrities and high-fliers.
The company provides a global service with key staff in Guernsey, the UK and the USA.
2. What Image Rights Registration covers
Almost anything deemed to have a personality can register its Image Rights. This can include for example - an individual or group of people, a fictional character or avatar, or a corporation, organisation or club.
Furthermore, any attribute that is unique and distinctive to a personality – such as visual characteristics, phrases and catchphrases, a brand or product, a style or look, sounds, colours and a combination of attributes which together are unique – can be registered as images.
3. Reasons to Register Image Rights under the IRO:

The only law specifically created to protect personality
Brings clarity where there was previously ambiguity
It is an affordable and straightforward process
Converts personality into an intangible property right
Continues in perpetuity after death
It is compliant and complimentary with other intellectual property laws
4. Link to the Ordinance
To view the full Image Rights (Bailiwick of Guernsey) Ordinance, 2012
click here: http://www.guernseylegalresources.gg/article/104749/Image-Rights-Bailiwick-of-Guernsey-Ordinance-2012