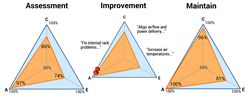 The ACE Performance Score will give data center operators a way to assess how compromised their data center is, a means to improve it, and finally to maintain it in future operations.
London, United Kingdom (PRWEB UK) 24 March 2014
In an industry where the average TCO overspend is around $27m per MW, where $/kW can spiral out of control within just a few short years of entering operation, and where the average cost of downtime is $627k per incident, owner-operators want solutions. Step forward Future Facilities, experts in predictive modelling for data centers, with the ACE Performance Score.
The ACE Performance Score enables data center owner-operators to accurately track and improve the performance of their data centers. Critically, it allows them to do so in a sustainable and repeatable way, meaning that they can exercise much greater control over increases in downtime, cost per kW of IT load, and total cost of ownership.
The score is derived from the three interconnected variables that ultimately determine how costly a data center is: Availability (uptime and resilience), physical Capacity and cooling Efficiency (ACE). It presents a new way of assessing, balancing and visualising these critical indicators of data center performance.
ACE Performance Score works by mapping data (for example, inventory and "real-time" power) from DCIM toolsets into a powerful 3D virtual facility model. With that automated process accomplished, it then simulates the resulting distribution of airflow and temperature in the space. This confluence of predictive modelling and DCIM data is called Predictive Modelling for DCIM.
Hassan Moezzi, Future Facilities CEO, explained: "The people responsible for the operation of the data center cannot predict the engineering impact of moves, additions or changes made to the IT load. In a dynamic environment, each and every change has an effect upon data center capacity, resilience or efficiency. The ACE Performance Score will give our customers a way to assess how compromised their data center is, to then improve it, and finally to maintain it in future operations."
This is all possible because the ACE Performance Score plots the data center's Performance Gap – the difference between maximum design potential and what can be achieved in day-to-day data center operations. Once the performance gap has been identified, data center professionals can make informed decisions about which variables to protect, which to sacrifice, where to save money, how to lessen the impact of change and how to ensure data center investments are maximized.
The score is arrived at by means of Future Facilities' ACE Data Center Performance Assessment service. This measures data center performance at any point in time, provides a comparison against the original design intent, and allows the owner-operator to decide which of the variables to protect and which to sacrifice in order to meet their operational goals.
And it's not all hot air. In trials of the ACE Performance Score, Future Facilities saved a major financial institution $10m by assessing and improving a single 24,000ft2 data center. This was a well-run center with an extensive DCIM toolset, too.
For more details, please contact Future Facilities on +44 (0) 207 840 9540 or visit http://www.futurefacilities.com/solutions/ace/ace_assessment.php.
==ends==
About Future Facilities
Since 2004, Future Facilities has provided predictive modelling software and consultancy services to the world's largest data center owner-operators, and to the industry's leading consultancies.
Future Facilities' 6SigmaDC software suite optimizes data center utilization through continuous modelling, allowing data center owner-operators to choose how to balance availability, capacity and efficiency in a way that has been proven to save millions of dollars per data hall.
Innovative and progressive, Future Facilities is today unique in the data center market place; the only company offering an holistic solution for the data center lifecycle – from inception through to operation.
Additional information can be found at http://www.futurefacilities.com.
For Further Information
Hassan Moezzi
Future Facilities Limited
hassan.moezzi(at)FutureFacilities(dot)com
+44 (0) 20 7840 9540
http://www.futurefacilities.com
Press Information
Scott Purchas
SPA Communications Limited
spuchas(at)spacomms(dot)co.uk
+44 (0) 1892 511413
http://www.spacomms.co.uk