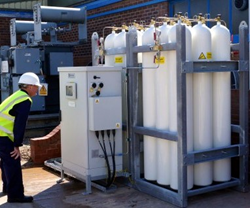 Jason Koffler, Director said: "This is an exciting opportunity for our customers, overcoming conventional batteries has been a challenge which dominates many conversations both pre and post sale."
Thame, Oxon (PRWEB UK) 24 March 2014
Critical Power Supplies and Flowbattery are pleased to announce a collaboration agreement that will see both companies challenging for the UPS market sectors such as flywheel UPS, Fuel cell UPS and large Data Centre UPS installations.
Flow Battery Customers, including National Grid have installed compressed air batteries instead of conventional lead-acid batteries, to provide ultra-reliable, low cost backup electrical power for their installations.
Developed and supplied by UK-based Flow Battery, the most recent installation was at Elland Substation, West Yorkshire for National Grid. This follows on from the previous four years during which compressed air backup has been used successfully at other National Grid Substation locations in both the UK and the US.
The system concept is to supply a fully integrated package, using compressed air cylinders to drive a scroll generator, which instantly delivers up to 4kW of AC or DC backup power, with a run time determined by the amount of air available via the cylinder packs.
Flow Battery General Manager James Derby said: "The CAB system is designed to last for at least 40 years, with whole life costs that are significantly lower than those of large lead acid battery installations. This is because our compressed air technology is inherently more reliable, durable and lower maintenance than traditional batteries. For example, all of the customer units installed have operated with zero maintenance requirements and 100% reliability.
"Another major advantage of compressed air solutions is that they are tolerant of a wide range of environments and can be mounted outdoors, without any special engineering requirements. The system shown in the above picture shows that the installation has been virtually plug-and-play, freeing up valuable space in the customer premises and has negated the need for other considerations such as ventilation and Ex engineering."
Mark Wilson, Flow Battery Business Development Manager said: "Flow Battery has been looking to actively partner with established market professionals. Critical Power Supplies bring that to the partnership and we are very pleased to be working with Critical Power Supplies in the Uninterruptable Power marketplace."
Jason Koffler, Director said: "This is an exciting opportunity for our customers, overcoming conventional batteries has been a challenge which dominates many conversations both pre and post sale, however now we can have a balanced conversation and ensure the right solution is selected for day 1 and day 3001."
About Flow Battery
Based in Capenhurst, UK, Flow Battery is part of the Flow Group in August 2013. The company provides battery-free backup power products which can ensure an uninterruptible power supply for critical systems, particularly for the telecoms, data centre and power transmission markets. Flow Battery's range includes units from 3kVA to 1MVA+, to meet the demand of the rapidly growing green data centre and extended runtime markets, by providing a low carbon alternative to batteries and flywheels.
Media Contacts
Mark Wilson- Business Development Manager
t. 0151 348 2114
e. mark.wilson(at)pnupower(dot)com
About Critical Power Supplies
Critical Power Supplies' product range includes UPS (from entry-level 300VA to 6MVA), fuel cells, generators, servers and data centre equipment including rack systems, Power Distribution Units, Source Transfer Switches, Smart Meters, consumables and spares, UPS accessories, power solutions and power conditioners.
Critical Power Supplies also provides a range of services including: site surveys, UPS and generator hire or rental, remote monitoring and response services, battery testing and replacement, design and project management, installation and commissioning, maintenance and warranty services and the removal and licensed disposal of old equipment (including UPS batteries). The company's extensive service network provides 24/7 support for customers running critical equipment.
Media Contacts
Jason Koffler, Director
t. 0800 978 8988
e. jason(at)criticalpowersipplies(dot)co(dot)uk
Critical Power Supplies Ltd, Unit F, Howland Business Park, Thame, Oxon, OX9 3GQ.
Flow Battery Limited, Capenhurst Technology Park, Capenhurst, Cheshire CH1 6EH.