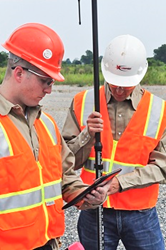 Midland, Texas (PRWEB) March 22, 2014
With oil and gas booming in West Texas, Landpoint has significantly expanded their surveying and engineering operations in Midland.
Late last year, the company merged with West Company of Midland. The merger marked the end of a yearlong strategy to create an extensive network of professionals across key domestic oil and gas market locations. The combined companies offer a responsive and mobile workforce of over 200 employees dedicated to oil and gas projects.
"There's been an extremely large demand for new oil and gas infrastructure," said CEO James Souter. "Our experienced professionals are working hard to help midstream and production companies meet the requirements created by the increased drilling activity in the Permian Basin."
Landpoint and West Company specialize in pipeline, well location, facility, and electrical transmission projects and expects to continue the rapid growth experienced during the past 3 years. In addition to the expansion of the land surveying and engineering services, the companies have also experienced a growing demand for GIS, laser scanning, and environmental consulting.
A strong increase in the number of barrels of crude oil produced in Texas in December 2013 – an average of 1,797,302 barrels a day, up from the 1,413,709 barrels produced in December 2012, according to the Railroad Commission of Texas, is providing the combined companies of Landpoint and West Company with significant growth opportunities.
Together, the companies have 5 office locations spread across Texas, as well as others in Louisiana, Arkansas, Colorado, and Pennsylvania.
About Landpoint
Landpoint is an award winning firm that performs land surveying and engineering services for oil and gas, transportation, commercial land development, and residential real estate companies. The company also provides consulting, GIS mapping and laser scanning. The value added services and solutions offered by Landpoint are unmatched in the industry, allowing customers to realize significant time and cost savings.
Founded in 1984, Landpoint began opening new offices across the country in 2009 in response to growing demand. Landpoint is one of the largest land surveying, environmental consulting, and mapping companies in the country.
To learn more about Landpoint, and how their personnel can assist in oil and gas operations, see http://www.landpoint.net