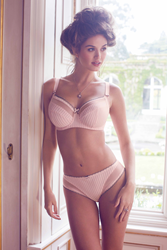 Special offers on the day will include up to 25% off on selected styles.
Desborough, Northamptonshire (PRWEB) March 21, 2014
On Saturday 22nd March, from 9am to 9pm, visitors will be able to take advantage of professional bra fitting by the underwear specialist, whilst learning about breast health. As the most common cancer in the UK, Leia wants to advise women of Kent and the surrounding area on how important it is to look after their breasts and the signs of breast cancer.
There will be a model present in the store to showcase how correct bra fit should look as well as the collections available. Special offers on the day will include up to 25% off on selected styles, such as best-selling Freya range Patsy and Fantasie range Vivienne in addition to a selection of swimwear collections too. Customers will also receive 10% off all full price ranges.
Leia lingerie offers a wide variety of lingerie and swimwear for small and large cup sizes from leading brands such as Freya, Fantasie, Fauve, Elomi, Wacoal and B.temtp'd. Ranges are available from a 28" to 48" back, from an A to K cup. Customers will also be able to enjoy nibbles and fizz in the store and goody bags with purchases over £50.
Leigh Herbert, Bluewater Store Manager said: "Maintaining good breast health is vital and we are thrilled to have teamed up with Breast Cancer Care to help raise awareness and offer advice about such an important topic for women. We're working hard to banish bad bras - wearing a perfectly fitting bra makes so much difference to the way you look and the way you feel not only will it lift your bust, but it will also give you the perfect silhouette."
About Leia
Leia has over ninety years of lingerie design experience and aims to provide inspiring and affordable lingerie swimwear and sportswear, from an A to a K cup. Leia principally allow women to buy lingerie online via their retail website, but they also have boutiques in York and Cardiff, as well as Kent's Bluewater shopping centre. The Leia range featuring a wide choice of brands, including Freya, Fantasie, Fauve, Elomi and Huit, with ranges available from a 28" to 48" back. To find out more about Leia, visit http://www.leialingerie.com.