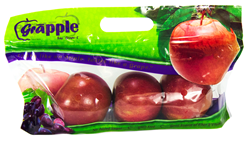 Selah, WA (PRWEB) March 21, 2014
Every March, American's are asked to put a focus on good nutrition by celebrating National Nutrition Month, sponsored by the Academy of Nutrition and Dietetics. The theme this year is "Enjoy the Taste of Eating Right." Grapple® brand apples fit the bill. Take a sweet, crunchy wholesome Washington apple and combine it with aromatic concord grapes and a Grāpple is created.
While taste drives most food choices, eating nutrient-rich foods that provide the most nutrition per calorie is one of the best ways to "Enjoy the Taste of Eating Right," according to the Academy of Nutrition and Dietetics. Grāpples do just that- they combine both great taste with a unique apple/grape combination and great nutrition in one bite. After all, Grāpple brand apples are as healthy as any apple just picked off a tree.
Nutritionally a Grāpple closely resembles that of any apple. Each Grāpple contains approximately: 95 calories, 0g fat, 0g cholesterol, 0gs sodium, 170 mg potassium, 25g carbohydrate, 4g of dietary fiber and 19g sugar. They are high in fiber which recent studies noted Americans need more of and have a low glycemix index, especially good for diabetics.
Grāpples begin either as a Washington State Gala or Fuji apple. Through a complex, patented process, these apples are gently bathed with an ingredient mix that is primarily grape flavor and pure water. Through the process the apples take on the grape flavor, which doesn't add any extra sugar, calories, carbohydrates or anything else. In fact the apples maintain their natural supply of vitamins, minerals, nutrients & fiber. They do not contain soy, gluten or wheat based products.
Grāpples are not genetically altered in any way, therefore not a GMO product. The process of making a Grāpple takes place after the fruit has been picked from the orchards. All ingredients are USDA and FDA approved and the process has been licensed by the Washington State Department of Agriculture.
Grāpple brand apples are widely available in grocery stores nationwide from October through May. They are sold in 3-pack bags and 4-pack clamshells with an average MSRP between $2.99-5.99. To find a store that carries them or to order online visit http://www.grapplefruits.com.
About Grāpple® brand apples
Grāpple® brand apples are the quintessential perfect healthy snack for kids of all ages. Through a patented process, premium Washington State apples are infused with grape flavor to create a product that "Crunches like an Apple, Tastes like a Grape™". For more information call 800-232-2636 or visit http://www.grapplefruits.com and Facebook at http://www.facebook.com/Grapplebrandapples.