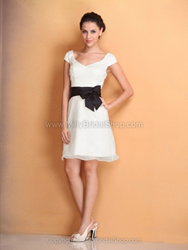 (PRWEB) March 21, 2014
Millybridalshop, a fabulous website full of dresses with all sorts of styles, has recently released its new assortment of bridesmaid dresses 2014. And the exciting news is that most of the newly released bridesmaid dresses are on sale. Prices are mostly under $150. "April is approaching real fast and weddings are what really comes to my mind when you say April. Anyway, if you're planning to be a June bride and you're still on the lookout for some bridesmaid dresses online, then you should never miss it out!" The marketing manager of the company says.
"Dresses newly-released are extremely well priced and can be customized to a large array of colors and sizes." The marketing manager said, "These dresses on sale are not limited to just bridesmaid dresses. The price would also be amazing as flower girl dresses, or an outfit for charity events, balls, dinners, parties or prom."
About MillybridalShop
Established in June 2003, Millybridalshop sprung from the desire to make online shopping just as exciting and inspiring as a shopping spree through town. The founder of Millybridalshop is an avid internet and fashion enthusiast. Nowadays, MillybridalShop would be your top resource for perfect dresses. With hundreds of wedding dresses and prom essentials, this site is the best place to find best quality gowns at affordable prices. By committing ourselves to be one of the leading online bridal dresses retailers around the world, we aim to build a long-term relationship with customers from the world at large.
So why not take a look. You will be amazed at the massive selection:http://www.millybridalshop.com/2014-bridesmaid-dresses-c-53.