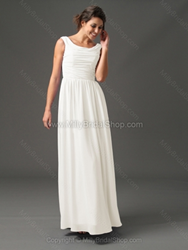 (PRWEB) March 21, 2014
MillyBridalShop, an online retailer of gorgeous bridal gowns and special occasion dresses, has added a new variety of cheap bridesmaid dresses online. The newly-arrived bridesmaid dresses collection will be a key feature to this spring's bridal sale. It would be a wise decision to choose a bridesmaid dress before the busy season.
Says Industry Consultant Hera, "You can see it in the newly-arrived dresses collection: light tones, nude shoes, and a pink nail polish perhaps. It will complement your look while keeping it low profile. My favorite one is in this collection, which I would describe 'urban ballerina' style and the one with a single shoulder strap- so chic and elegant! Each of our designs is featured with a chic look and dedicate craftsmanship. And the special offer will be available for a whole month."
At MillyBridalShop.com, you will find an amazing selection of bridesmaid dresses in different colors, luxurious fabrics and unique styles. Simply select the design and color that is perfect for your wedding as well as your budget.
About MillyBridalShop
Millybridalshop.com is one of the most popular dress suppliers. Along with bridesmaid dresses, it also provides many excellent products like sweet cocktail dresses, white wedding dresses, short homecoming dresses, and so on. The company is top of list for purchasing wedding gowns and women's special occasion dresses. We have the Best Service, Quality and Prices on any Original Designer Bridesmaid Dresses.
At http://www.millybridalshop.com, it is easy for visitors to find the new styles.