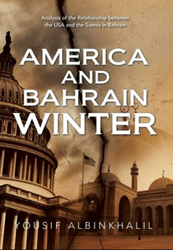 I want to shed light on the United States' motives and future tendencies by providing political analysis.
Muharraq, Bahrain (PRWEB) March 22, 2014
When alliances shift in international politics, does that also change the dialogue between the varying local perspectives?
In the new book "America and Bahrain Winter," author and journalist Yousif Albinkhalil provides an in-depth analysis on the past, present and future political relationship between the United States and Bahrain. By closely examining the decisions and appointments made by the U.S. Government in the Middle East, Albinkhalil highlights the consequences and rippling negative effects witnessed throughout Bahrain.
Albinkhalil capitalizes on his extensive background in education and political strategy to bring a well-developed and experienced voice to the outlook on the United States' involvement in these international affairs and Bahrain's current crisis.
"My aim has always been to raise awareness of the United States foreign policy towards Bahrain," Albinkhalil said. "I want to shed light on the United States' motives and future tendencies by providing political analysis of the situation in the region and the repercussions on Bahrain."
"America and Bahrain Winter" also discusses the history of the conflict in the Arabian Gulf, along with the complex and intertwined local, regional and international factors. Focusing on the uprisings in Bahrain in 2011, Albinkhalil shares his perspective based on years of research and personal conversations with locals and residents of surrounding countries.
For more information, visit bookstore.xlibris.com.
"America and Bahrain Winter"
By: Yousif Albinkhalil
Hardback: $53.49
Paperback: $32.09
E-Book: $4.27
ISBN: 9781483667119
Available at bookstore.xlibris.com, amazon.com and barnesandnoble.com.
About the author
Yousif Albinkhalil is specialized in Middle Eastern affairs, government communication and strategic planning and has served for many government projects in Bahrain. He has many academic and professional certificates in political science, political development and government communications. With an extensive background in research work, He has written five books on the Gulf Security and Middle East issues. Albinkhalil is the Editor-in-Chief for Al Watan Newspaper and lives in Bahrain.