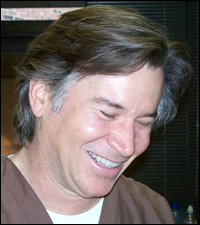 Austin, TX (PRWEB) March 21, 2014
March is National Nutrition Month and Dr. David A. Baker and his staff at Westlake Family Dental Care want to help Austin, TX patients understand the connection between gum disease and nutrition and how they can obtain effective gum disease treatment when needed. Gum disease, also known as periodontal disease, is a bacterial infection in the gums. Poor nutrition can inhibit a person's ability to fight off infections, making it a potential gum disease cause.
In addition to affecting the gums, periodontal disease is known to increase a person's risk for other illnesses as well. This is because an infection in the mouth can be spread through the bloodstream and affect other organs or systems. Heart disease, diabetes, low birth weight and preterm births are just some of the conditions proven to be impacted by the existence of periodontal infections. This makes the need to receive gum disease treatment vital for patients in Austin, TX as a part of maintaining overall health. A focus on proper nutrition can help people to eliminate that as a potential gum disease cause for them.
Dr. Baker offers a range of effective gum disease treatments in Austin, TX. Treatments include traditional gum surgery or the new laser gum surgery Laser Assisted New Attachment Procedure (LANAP®). Laser gum surgery is far less invasive than other methods and results in far less pain or discomfort for patients. Most people are able to take up their regular daily activities as soon as they leave Dr. Baker's office.
People who are interested in understanding more about nutrition and its role as a gum disease cause are invited to visit Dr. Baker's website or to schedule a consultation with him. Together, he and his staff at Westlake Family Dental Care are committed to helping patients achieve and maintain both optimal oral health and overall health and wellness.
About The Doctor
Westlake Family Dental Care is a general practice offering personalized dental care for patients in Austin, TX since 1997. Dr. Baker received his dental degree from the University of Texas Health Science Center San Antonio Dental School and scored in the top two percent of the nation in Endodontics and Periodontics. He is part of one percent of dental professionals providing the LANAP® FDA cleared laser procedure for gum disease and periodontal treatment. Dr. Baker stays abreast of the dental techniques and technology by attending at least 30 hours of continuing education each year. In addition to LANAP®, Dr. Baker provides services such as fixed lower dentures, mini-implants, and TMJ. To learn more about Westlake Dental Care and their dental services, visit their website at http://www.davidabaker.net and call (512) 782-8422.