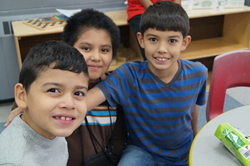 BCNY is now teaching twice as many members about nutrition, the seasonality of food, and how to cook a healthy meal.
New York, NY (PRWEB) March 24, 2014
The Boys' Club of New York, the city's oldest organization focused solely on preparing boys and young men to achieve their full potential, is proud to announce its 2013 Program Report. The Report details our members' achievements and the impact of our programs in 2013.
2013 was a transformational year for BCNY's programs and services. BCNY opened their doors on Saturdays for the first time in decades, and expanded and improved upon programs across all areas. In total, the Boys' Club served 3,432 boys and young men aged 6 to 21 in the three New York City clubhouses (East Village, East Harlem, and Flushing) and 110-acre camp in New Jersey. The entire report is available for download, and we are pleased to present some highlights below.
BCNY is making concrete strides in preparing members for their future in new and diverse ways. Building on longstanding academic preparation programs like the Independent School Placement program, BCNY introduced Make it Happen! a comprehensive college and post-secondary preparation program. An additional 77 members are served annually, allowing eighth through twelfth graders to realize their goals. For 122 members, career preparation started at BCNY, including a new Counselor-in-Training program. BCNY also joined the nationwide movement to prepare members with 21st century skills by introducing hands-on STEM programs, teaching 814 members science, technology, engineering and math.
BCNY is building members' skills in areas that are not currently offered in most New York City public schools. In our Music School, 524 students took 11,775 music lessons. We expanded our arts programs and added a drama program, increasing the reach of our arts programs by 60 percent. And, we taught 50 percent more members how to swim than in prior years. We also released new programs that build key life skills like confidence, communication, and decision-making.
BCNY is helping to address the epidemic of childhood obesity and build long-term healthy habits and skills in new and exciting ways. In 2013, our Social Work team grew into a Mental Health department and now includes psychotherapy; in total we provided 1214 individual counseling hours. Our bullying prevention and awareness event, Steps to Respect, became a clubhouse mainstay with 726 members participating. In the area of physical health, we expanded our cooking program, and are now teaching twice as many members about nutrition, the seasonality of food and how to cook a healthy meal. Furthermore, 262 members participated in Yoga for the first time, and 552 members participated in our new fitness circuits program.
About The Boys' Club of New York
The Boys' Club of New York is committed to nurturing, mentoring and guiding boys and young men to prepare them to reach their fullest potential. Throughout its 138-year history of youth development, The Boys' Club of New York has combined a single-minded focus on boys and young men with a unique, multi-disciplinary approach that prepares them for a fulfilling and meaningful adulthood. The Boys' Club of New York accomplishes this through an approach that includes music and arts programs, social and recreational activities, academic support, and athletics.
By introducing boys to new ideas, expanding their interests, developing their real-world skills, providing a safe and nurturing environment, and offering ongoing counseling and mentorship, the Boys' Club of New York helps shape boys and young men into the best men they can be. Please visit bcny.org for additional information about BCNY's programs.
For further information, please call Helen Frank, Communications Manager, 347-505-5416 or helen.frank(at)bcny(dot)org.