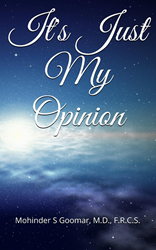 SAN DIEGO, CA (PRWEB) March 24, 2014
In his new book, "It's Just My Opinion," former physician Mohinder Goomar explores the ethical, moral and legal inconsistencies of how we treat the incarceration of the mentally ill in the United States, among other topics.
"Our legal system is predicated on the fundamental concept of individual culpability, that someone with reasonable control of his or her faculties has the power of free will and the ability to obey the law. But the incarceration of the mentally ill is a prime example of contradiction in our judicial philosophy," says Goomar, who discusses his experience with dissociative identity disorder (DID), formerly known as multiple personality disorder, in his new book.
"This is not a problem affecting a handful of people. We're talking about the incarceration of the mentally ill by the millions, which results in abuse of the mentally disabled in prisons and the compromised integrity of our legal system."
The book acknowledges another important consideration entangled in the legal, ethical and moral questions of mental disorders: the tremendous power of the DSM-5 (2013), a handbook published by the American Psychiatric Association, which has recently recognized that religious and cultural practices influence sufferers of DID, he says.
"With an updated manual, the APA can unilaterally reclassify a disorder, which has important legal considerations; but perhaps more importantly, the APA is recognizing the importance of spiritual influences on the minds of the mentally disabled," says Goomar, who provides insight on a lifetime of suffering from DID.
"These legal, spiritual and psychological topics are all connected, involving many disturbing phenomena, including terrorist attacks, various warfare, financial catastrophes, personal relationships and unexplainable occurrences in an individual's life."
About Mohinder Goomar
Mohinder Goomar is a former medical doctor who, after emigrating from India, became board certified by the American Academy of Ophthalmology and Otolaryngology and became an American citizen. He was chairman of the surgery department at Saratoga Hospital, in New York, had a private practice for head and neck surgery. After experiencing mood swings and a distortion of judgment, Goomar was diagnosed with dissociative identity disorder (DID). He was rehabilitated at a facility and lost his medical license for two years – to be followed by reinstatement of the license. Due to his DID experience, he did not have his license reinstated. His book, "It's Just My Opinion," (http://tinyurl.com/koshnfd) details his experience.