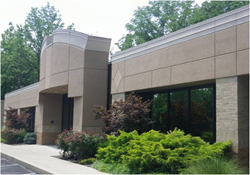 Cincinnati, OH (PRWEB) March 22, 2014
Nutrition is the focus this March at Ohio Valley Periodontics as it is National Nutrition Month and many key nutrients are known to help maintain healthy gums. The entire staff, led by Drs. Scott Silverstein and Matthew M. Parker, is working hard to educate area residents about the role of nutrition in preventing gum disease. Patients with gum disease are advised to seek professional treatment along with improving their nutrition. A consultation at Ohio Valley Periodontics provides treatment options, such as the laser gum surgery alternative, depending on the patient's needs.
Gum disease can be a serious condition that can eventually lead to the loss of teeth. Tooth loss in adults can eventually even lead to the loss of bone density in the jaw. There are many ways to treat gum disease including traditional surgery, laser gum surgery alternative, and root scaling. Drs. Silverstein and Parker at Ohio Valley Periodontics offer all types of treatments and also focus their efforts heavily on prevention.
The role that nutrition can play in gum health is multifold. Vitamin C is a well-known immune system enhancer that greatly improves the body's ability to combat infections such as gum disease. If periodontal disease does begin to form, swelling in the gums can sometimes be noticed. Adequate levels of vitamin D may be beneficial against this symptom as this particular nutrient acts as an anti-inflammatory. CoQ10 is beneficial in repairing the damaged tissue resulting from gum disease.
The staff at Ohio Valley Periodontics welcomes patients to visit their website to learn more about the relationship between gum disease and diet. Patients with gum disease symptoms should call the office for a consultation to see if the laser gum surgery alternative is a viable option for their case.
About The Doctor
Ohio Valley Center for Periodontics & Implants is a periodontal practice offering patients personalized dental care in Cincinnati and Milford Ohio. Dr. Silverstein and Dr. Parker are part of one percent of dental professionals providing the LANAP® FDA cleared laser procedure for gum disease and periodontal treatment. They are both active members of the American Board of Periodontology and the American Academy of Periodontology. To learn more about Ohio Valley Center for Periodontics & Implants and their dental services visit their website at http://www.cincinnati-periodontist.com and call their Cincinnati location at 513-334-5997 and their Milford location at 513-334-5997.