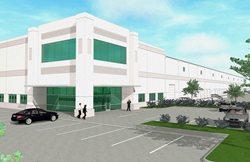 Denver (PRWEB) March 24, 2014
Amstar, a Denver-based real estate investment manager acting on behalf of one of its public retirement system clients, announced today the acquisition of a 35-acre development site in Houston. Amstar and its development partner, Davis Commercial Development ("DCD"), will construct a 352,000-square-foot state-of-the-art cross-docked industrial building on the site. The property is designed to achieve LEED Certification.
The property is located immediately south of George Bush Intercontinental Airport along North Sam Houston Parkway ("Beltway 8"). The site has more than 1,200 feet of frontage on Beltway 8 and lies just east of the intersection with the Hardy Toll Road in Houston's north submarket, one of the healthiest industrial submarkets in the country. The investment fits within Amstar's industrial development strategy, which is focused on providing superior risk-adjusted returns by partnering with high-quality local development firms to acquire exceptional construction-ready land sites in strong U.S. industrial markets and adding value through the development and leasing of institutional quality Class "A" industrial product.
"Amstar is excited to be a part of such a promising, well-located development, especially with a high-caliber partner like Davis Commercial Development. We have partnered with Jeff Davis and his team at DCD before and look forward to a great outcome," said Amstar Senior Vice President Daniel Cohen.
"This property is prominently located right at the front door of Houston's airport, and the building planned for the site should provide the latest features that Houston's growing manufacturing, distributing, and warehousing companies need to be competitive in the marketplace. We are pleased to partner again with Amstar to develop and construct this high quality project." said Jeffrey P. Davis, principal of Davis Commercial Development.
About Amstar
Established in 1987 and headquartered in Denver, Colorado, Amstar is a real estate investment manager that acquires, develops and manages office, multifamily, retail, hotel and industrial properties in select U.S. and international markets. Originally formed to invest and manage the real estate allocation of a large family office client, Amstar began expanding its capital strategy nearly a decade ago and has grown to more than $2.5 billion in assets under management (as of December 30, 2013). Today, Amstar is proud to provide a high degree of focus and attention to its client relationships, counting among them leaders in the private and institutional investment community. Amstar's clients originate from across the globe and include U.S. and European institutions, insurance companies, private banks, funds of funds, and other family offices.
About Davis Commercial Development
Davis Commercial Development is a Houston-based real estate development and investment company whose principal has more than 32 years of proven experience in designing, developing, leasing and managing high-quality commercial and residential properties. Jeffrey P. Davis has taken the lead role in development or redevelopment of more than 3,000,000 square feet of investment-grade commercial properties and several hundred acres of residential land since 1982. Davis Commercial Development has an established network of tenants, clients and investors, and prides itself on the strong relationships created amongst its strategic business partners.