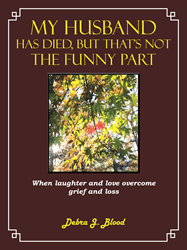 sharing our stories on social media reminded me of our love, laughter and time together.
Easley, S.C. (PRWEB) March 22, 2014
Facing life after the unexpected loss of a loved one can be a challenge. For Debra Blood, the key to coping with the death of her husband was through humor.
"My Husband Has Died, But That's Not the Funny Part" chronicles author Debra Blood's personal journey from grief to healing through the power of laughter and reflection. She shares her daily social media posts dedicated to her late husband that served as both an outlet for her emotions and a chance to include his presence in the day-to-day.
"I never intended to write a book," said Blood. "I needed to find a way to grieve and connect to my husband's memories, so I started sharing stories on social media that reminded me of our love, laughter and time together."
Although some might argue humor during such a difficult loss is inappropriate, for Blood sharing the joy of the memories and humorous family anecdotes provided a natural, familiar and meaningful method for her to express her grief.
The collection explores the importance of love, laughter and expression when working through the pain and changes surrounding the loss of a loved one.
For more information, please visit http://www.debrablood.com.
By: Debra Blood
Paperback: $22.95
Ebook: $5.99
ISBN: 9781481716673
Available at bookstore.authorhouse.com, amazon.com and barnesandnoble.com.
About the author
Debra Blood is a mother of two and currently lives in Easley, South Carolina, where she has been a customer service representative for a corporate travel agency for more than 13 years. Blood continues to share her thoughts on the hope, humor and the positivity in life on her website, http://www.debrablood.com.
# # #