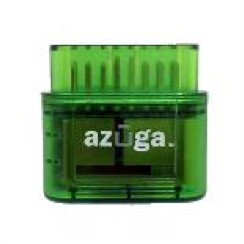 With Azuga, we're able to accurately track our drivers, reduce risk, improve customer service and proactively service our vehicles
San Jose, CA (PRWEB) March 25, 2014
Azuga, a leading instant-install cloud-based GPS fleet tracking and driver behavior solution, announced today that it has secured its 500th and largest customer within the first nine months of operation. The new customer has a fleet of more than 2,700 vehicles and selected Azuga's solution for its comprehensive coverage of next-generation functionality, which combines GPS, a driver behavior and rewards system, vehicle health reports and plug-and-play installation. The addition of the 500th company solidifies Azuga's momentum and popularity in the fleet telematics industry.
"Traditional GPS systems inflict punishing contracts and high monthly recurring costs and, in the end, do not produce accurate data for fleet and operations managers," said Ananth Rani, vice president and general manager of Azuga. "Our cloud-based, engine-connected software management and next-generation devices not only provide more accurate reporting, but are ready-built for user-based insurance (UBI) programs and carbon emissions monitoring. Azuga was created to shake-up the fleet telematics industry. We're pleased to see rapid adoption by customers, including the largest fleets in the country."
In the past, many companies invested in traditional GPS systems that required expensive hardware, vehicle downtime and expensive installation. These traditional solutions also gave no visibility into actual fuel use, vehicle health and risky driver behavior patterns. Further, these vendors mandated long contracts, early termination fees and high recurring monthly costs, resulting in a revolt among fleet customers. Fortunately, Azuga's instant-install OBDII now allows companies to track their fleets for just 70 cents per day per vehicle (price includes GPS tracking device).
Powered by Azuga's G2 technology, the device "reads" vehicles' engine data up to 60 times more often than standard GPS tracking systems and sends data to the cloud, giving fleet administrators real-time snapshots of vehicle health, fuel usage, carbon footprint and driver behavior.
"With Azuga, we're able to accurately track our drivers, reduce risk, improve customer service and proactively service our vehicles," said Maggie Cassell, chief financial officer of C&L Refrigeration, an Azuga customer. "Our fuel costs have decreased 15 percent in the first 60 days after implementing the technology throughout our fleet."
Azuga is led by a team of industry veterans with experience at Ford, GM, AT&T, Oracle, Xora, Telenav and Qualcomm Azuga's closely partners with Danlaw, Inc. for GPS and OBD II hardware. Danlaw manufactures Azuga's OBDII device, ensuring hardware performance that's trusted by top insurance companies. Over 1 million such devices have been installed in the field. For each product sold, Azuga donates a portion to a charity of the customer's choice – several large organizations like the Leukemia and Lymphoma foundation, American Diabetes Association, World Vision and Save The Children have benefited from these contributions.
###
About Azuga
San Jose-based Azuga is shaking up the traditional GPS vehicle tracking market with industry-first price points, easy-install hardware, lifetime warranties and no contract terms. The company's cloud-based Azuga G2TM technology can begin tracking fleets in as little as 22 seconds and for just 70 cents per day per vehicle. Azuga partners closely with Danlaw, Inc. for hardware. Danlaw's 300+ engineering professionals have been providing cloud-based, connected vehicle telematics solutions and embedded electronics to OEM's and their Tier-1 supply base for more than 29 years. For more information, visit http://www.azuga.com and follow @Azuga_GPS on Twitter.