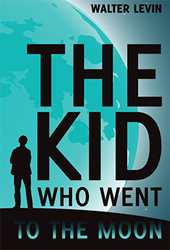 Irvine, CA (PRWEB) March 24, 2014
Fifth-grader Walter Levin has just published his first book for kids, "The Kid Who Went To The Moon," which combines the entertaining first-person voice of 12-year-old protagonist James Gibson with a positive message.
While there are excellent big-name authors such as J.K. Rowling who excel at engaging young imaginations, many other adults miss the mark, Levin says.
"If they're writing a book for kids, authors should know how to meet them on our level, with an understanding of our problems and our sense of humor," he says. "Kids don't want big, fancy words – save that for the adults. And we don't want to read something that's very long. We've got lots of other big books to read as homework!"
"The Kid Who Went To The Moon" is well prefaced with the quote, "That's one small step for a kid, and one giant leap for kid-kind." Levin's preadolescent hero needs just $2 million to convince NASA to let him go to the moon. Most kids could never put their hands on that kind of money, but James is no ordinary kid.
Levin writes Gibson in a voice young readers will recognize:
"All my life, I've been writing to NASA, asking them to send me into space instead of the monkeys they kept sending. When I saw space on TV, I thought it would be cool to go there, since no kid has ever been. But I never really got an answer. Until one day…I woke up from a nap as my phone buzzed in my back pocket. My older sister, Sydney, made a face. "Ew! You farted!" "Did not!" I said. I checked my phone and thought I was hallucinating. I actually had an email response from NASA! I opened the email to read … a big NO. They also wrote, "Stop emailing us, you bum."
Levin, who already has many personal achievements in his young life, from martial arts to playing drums to running long-distance races, wrote his book for kids with the positive message that young people can accomplish seemingly impossible goals when they put their minds to it.
"Keep writing!" writes Amazon reviewer D/C Russ, who gave Levin's book five stars. "That's a major accomplishment."
About Walter Levin
Walter Levin is 11 years old, a black belt in tae kwon do, a unicyclist and a rock drummer who ran his first 10K at age 8. He lives in Orange County, Calif., with his family and two guinea pigs named Butterscotch and Fenway, who is named in honor of the Boston Red Sox. "The Kid Who Went To The Moon" is Levin's first book.