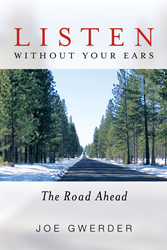 True, widespread change and improvement will only happen when people embrace that you can only control you
SACRAMENTO, Calif. (PRWEB) March 24, 2014
When beliefs and ideologies are passed down through communities or families, it can be easy to accept the familiar, even if the new generation may not agree.
"Listen Without Your Ears" is a motivational book that encourages readers to connect with their own emotions and information in order to create a more fulfilling and purposeful outlook on life.
A self-made man, author Joe Gwerder shares his personal process and advice on challenging the status quo in various aspects of society while trusting your intuition and control.
"I do not provide 'expert' answers that are derived from a pre-existing protocol or schooling," Gwerder said. "I do help others remember or learn their own method for approaching a variety of life experiences in a realistic and relatable manner."
With sections dedicated to politics, religion and education, Gwerder encourages readers to listen to issues surrounding these topics with a well-developed sense of intuition and a respect for the human condition.
"Changing the world is a personal affair," Gwerder said. "True, widespread change and improvement will only happen when people embrace that as an individual, you can only control you."
For more information, please visit bookstore.archwaypublishing.com.
"Listen Without Your Ears: The Road Ahead"
By: Joe Gwerder
Hardback: $28.99
Paperback: $11.99
E-Book: $3.99
Audio Book: $3.99
ISBN: 9781480801530
Available at bookstore.archwaypublishing.com, amazon.com and barnesandnoble.com.
About the author
Joe Gwerder grew up in small ranching and farming community in northern California. He has been self-employed for more than 25 years, and continues to write about common life issues and experiences through the lens of intuition. Gwerder currently lives in Capay, Calif.
# # #