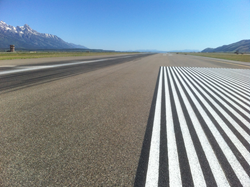 FORTAfied® Asphalt is Stronger Asphalt!
Jackson, WY (PRWEB) March 21, 2014
The Jackson Hole Airport is located at the base of the spectacular Teton Mountains, and is located entirely within Grand Teton National Park. FORTA-FI® was used in a 1 ½" (38MM) porous friction course on the runway 1/19 rehabilitation Project. This airport had several unique attributes that demanded a reinforced asphalt mixture.
The airport location accumulates 300" of snow annually. The snow plowing in the past has caused the previous pavement to ravel. Accompanied with temperatures that can swing from-40°F to 41°F in the winter months, and annually from 40°F to 104°F in the summer months.
The Jackson Hole Airport has 35,000 flights annually with over 300,000 enplanements. The runway elevation of 6,450 feet causes planes to land at higher speeds. The runway length 6,300 feet is relatively short for higher speeds and larger aircraft. The airport itself can accommodate both smaller and larger planes, such as 757's and A320's.
Project Details:
Location: Jackson, WY
Owner: Jackson Hole Airport
Engineers: Jacobs, Denver, CO
Contractor: HK Contractors, Idaho Falls, ID
Fiber: FORTA-FI® HMA
FORTA Corporation's first patent for asphalt-reinforcing fibers was 1982, and our products have been successfully used in projects around the world. Over that time, we have continued to fund additional scientific research projects to optimize our products, and to better quantify the value provided by these products. Our 2008 research project was conducted by Arizona State University and showed remarkable results.
The secret to reinforcing almost any construction material is historically simple: add fibers throughout the material to add strength, toughness, and durability. FORTA capitalizes on this three-dimensional certainty by providing strong and chemically-inert synthetic fibers and materials — FORTA-FI® — that mix quickly and distribute uniformly in asphalt mixtures. Once distributed, FORTA-FI fibers act as reinforcement in both conventional and modified asphalt mixtures, offering improvements to stability-related problems often occurring in unreinforced asphalt pavements.
Though the millions of distributed fibers are easily detectable in the asphalt mixture, they become virtually invisible on the pavement surface. By controlling thermal, reflective, and fatigue cracking as well as rutting, FORTA-FI is a cost-effective way to improve the durability and longevity of a wide variety of HMA, WMA and PAT asphalt applications. FORTA-FI family of products are proprietary blends containing aramid and polyolefin fibers and other materials, known for their strength, durability, and binding properties.