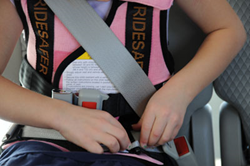 (PRWEB) March 23, 2014
Safe Ride 4 Kids is a company built on convenience and innovation with several unique travel vest and safety designs for children and pregnant mothers. The Ride Safer® Travel Vest allows children to easily be transported from one vehicle to another without the bulk and hassle of a full car seat. The products have been tested and approved in all states and several countries as a safe, easy and legal alternative to traditional child car safety seats.
In addition to the vest, Safe Ride also provides the Tummy Shield® as an alternative to the uncomfortable ride for pregnant mothers in the car. The Tummy Shield® redirects the seatbelt away from the mother's growing tummy allowing for a more comfortable ride.
Safe Ride 4 Kids has recently introduced a fundraising program in schools and academies across the country to help others keep children safe while in vehicles. This fundraising program returns a portion of the profits back to the communities that support Safe Ride.
This system is in place to use the sales of the product as a fundraiser for children's schools and other non-profit organizations. Each participating school or organization will have a specific shopping page on the corresponding website in order for any purchases placed to be redirected to the school of choice. These organizations also include programs such as Boy/Girl Scouts, little league, Boys and Girls Club, Etc.