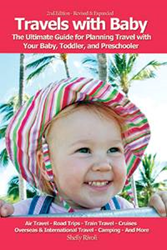 Travels with Baby... is an easy to use reference book for young families on the go.
(PRWEB) March 22, 2014
Ride Safer® Travel Vest is an alternative to children's car seats providing a comfortable and convenient way to safely protect children while riding in vehicles. The New 2nd Edition Travels with Baby: The Ultimate Guide to Planning Travel with Your Baby, Toddler and Preschooler, recently featured the RideSafer® travel vest as a safe and easy alternative to car seats and ideal for traveling with children.
The first edition of Travels with Baby, which debuted in 2007, won a NAPPA Gold Award in Parenting Resources and was a finalist for two ForeWord Magazine Book of the Year Awards. It has been featured in numerous magazines, on radio and TV.
Greg Durocher, owner and founder of Safe Ride 4 Kids a US distributor for the RideSafer® Travel Vest says, "We are excited and delighted to be a part of this vital travel guide for parents and children." The travel guide has been a prominent addition for parents and those that travel with babies and small children.
RideSafer® provides a safe travel vest for children and allow parents to travel with ease instead of hauling around the bulky car seat through airports, on planes and in vehicles. The RideSafer® Travel Vest has been thoroughly tested and is legally approved in the US.
The federal government sets performance criteria for how much crash energy is experienced by a child during crash. They do this by requiring the manufactures to crash test their products and measure the results. FMVSS 213 is the federal standard which sets the performance criteria for child restraints. It requires that manufacturers measure crash energy at several different locations on an instrumented crash test dummy. Those locations are listed under the column heading "Injury Criteria". "Compliance Requirement" is the column which states the maximum amount of energy that can be measured at a given point and still meet the standard. The RideSafer is tested as a harness as prescribed by FMVSS 213.
During crash safety tests the RideSafer® Travel Vest performed very well, as its results are well below — sometimes by half or more — of the standard maximums allowed.