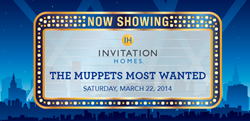 Invitation Homes is focused on delivering first-class service and an outstanding rental experience for residents.
Dallas, Texas (PRWEB) March 23, 2014
Invitation Homes, the nation's leading provider of high-quality homes for rent, is treating its residents throughout the country to a complimentary screening of the new movie Muppets Most Wanted.
On March 22, Invitation Homes residents will be among the first to see this much-anticipated film, which features the entire Muppets gang in an international crime caper. The movie stars Ricky Gervais, Tina Fey and Ty Burrell, with surprising cameo appearances by many more celebrities.
In all, the movie will be screened for Invitation Homes residents in 34 locations from Florida to Chicago to California. The first 25 people who register for the screening and arrive at each theatre location dressed as their favorite Muppets character will win a prize.
"When you choose Invitation Homes, you get a lot more than a rental home," said Andrew Gallina, Invitation Homes Spokesperson. "You get extras like professional property managers, newly remodeled interiors, an IH Resident Rewards program offering all kinds of discounts, plus complimentary admission to special events like these."
This is the second time Invitation Homes has offered a complimentary movie to their residents. In November of last year, residents in select cities were ecstatic to be treated to a private opening night screening of The Hunger Games: Catching Fire.
About Invitation Homes
Founded in 2012, Invitation Homes leases single family homes in 14 regions across the country. Since it began, Invitation Homes has purchased more than 40,000 houses, making it the leader among single-family homes for rent companies in the U.S. Based in Dallas, Texas, Invitation Homes offers a high-quality rental experience that includes professional property management, an online portal for rent payment and a friendly policy toward pets. For more information, visit http://www.ihrent.com.