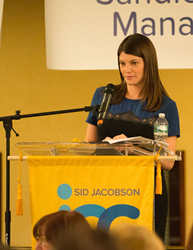 "When asked, I always say that I used to feel like an 8-year-old in a 14-year-old's body; now I feel like a 21-year-old in a 21-year-old's body."
Roslyn, NY (PRWEB) March 24, 2014
Gail Simmons, judge on Bravo's Top Chef, led over 700 attendees in a raucous Live Auction during Sid Jacobson JCC's 19th Annual Auction for Excellence, An Epicurean Event on Thursday, March 20 at Glen Oaks Club.
"I grew up in a JCC community," Ms. Simmons said. "I know how an organization like Sid Jacobson JCC can change the lives of people who are in desperate need of support."
The event brought together flavors of the area's best gourmet restaurants and the excitement of Live and Silent Auctions. The evening raised funds to benefit essential programs for those going through life crises, including cancer, job loss and caring for those with special needs or Alzheimer's and related dementias. The JCC will never turn away anyone in need of assistance and provides vital scholarships to individuals and families in the community.
Alyssa Rios, a former Camp Kehilla camper and current participant in the JCC's VTEC program (Special Needs Vocational Training Program), spoke movingly about how the JCC aided her personal journey.
"When asked, I always say that I used to feel like an 8-year-old in a 14-year-old's body," Ms. Rios said. "Now I feel like a 21-year-old in a 21-year-old's body."
Moved by the Ms. Rios's words, attendees actively participated in spirited Live Auction bidding. As a result, scholarship funds were raised that would ensure children could attend Camp Kehilla, the JCC's special needs summer day camp, and never be turned away due to lack of funds.
Guests enjoyed offerings from New York City and Long Island's finest restaurants, including Abeetza Next Door, 388 Restaurant, Bagel Boss, Bar Frites, Café Continental, Cakes with Character, Centro Cucina, Chris & Tony's, Cipollini, Coffee Distributing Corp., Crumbs Cupcakes, Eric's Italian Bistro, Galleria Ristorante, Glen Oaks Club, Grown Up Goodies, Heavenly Tea, Hendrick's Tavern, Il Mulino, Joseph Craig Caterers, La Bottega, La Bussola, La Ginestra, Lederman Caterers, Magnolia Bakery, Matteo's, Mark of Excellence, Mitch & Toni's, Mim's Restaurant, Nine Cakes, Nisen Sushi, Pearl East, Prime Time Butcher, Rothmann's Steakhouse, Seasons 52, Stresa, Smokin' Aces, Trattoria Di Meo and Zaro's Bakery.
The Auction for Excellence Committee and Sid Jacobson JCC would like to thank Epicurean Sponsors Sandler Capital Management, Adams & Company Real Estate, LLC, Richard Greenstein of Smash Partners, Smash Burger & Dunkin' Donuts, Fast Forward LLC, David Peyser Sportswear and Marvin Azrak for their generosity and support.